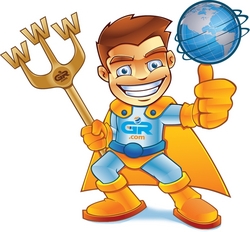 Examples of available domain names include: business.gr.com, loans.gr.com, dating.gr.com, flights.gr.com, games.gr.com, blog.gr.com, video.gr.com, poker.gr.com, athens.gr.com, travel.gr.com, shopping.gr.com
(PRWEB) January 10, 2011
Starting at 6pm GMT today, a new "zone" of domain names ending with the extension .GR.COM is being launched in a Landrush.
Unlike other domain extensions launched over recent years, no premium "keyword" domains will be withheld from sale, meaning that domains like shop.gr.com, athens.gr.com and games.gr.com are available for registration. Apart from trademarked names such as yahoo.gr.com, paypal.gr.com, philips.gr.com, etc., which were snapped up by the brand owners during an exclusive Sunrise period for registered trademarks, all names are available.
Registrations of .GR.COM domains are totally unrestricted. Anyone, residing in any country, may register as many as they want. Expected customers include:

Anyone wanting keyword domains
Any organization using the word "Group" in its name
Greek and Cypriot registrants
Anyone wishing to do business in Greece or Cyprus
Registrants in Grand Rapids, Michigan
Trademark owners who missed the Sunrise
.GR.COM domains will be available for General Release from February via leading registrars worldwide. Before General Release, they are available in a Landrush through select registrars including 101domain, Domain Monster, and bNamed, and as well as via the official site, domain.gr.com.
.GR.COM is the nineteenth domain extension combining a country code with the .COM suffix - including UK.COM, launched in the United Kingdom in 1995, and .EU.COM, which was launched in Europe in the year 2000.
".GR.COM is a very exciting addition to the global range of domain extensions," said Ben Crawford, CEO of CentralNic, the company launching the new extension. "GR.COM already enjoys a substantial following among the domain community, with over 3000 Facebook Likes before its launch, and Trademark owners from Ebay to Valvoline took advantage of our restricted Sunrise launch to obtain their .gr.com domains. We expect healthy interest from many people excited to obtain the domain name they want, ending .GR.COM – including very attractive and versatile premium domain names."
ABOUT CENTRALNIC
The only registry to launch two new domain extensions in 2010, CentralNic manages a growing number of domain extensions, including .US.COM and .LA in the United States, UK.COM in the United Kingdom, .EU.COM in Europe, and .CN.COM in China. The longest-running global domain registry in the world, CentralNic is the Registry Service Provider of choice for new domains requiring proven secure and stable technology, global distribution, expertise in domain sales and marketing, and even financing – with special programs for .brand domains, IDN domains, and not-for profits.
OFFICIAL SITE: http://www.DOMAIN.GR.COM
# # #