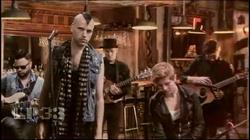 LP33 CEO Andrew Bentley says, "As part of our on-going mission to develop our proprietary technology platform and have LP33 content available wherever the consumers are, we're really happy to be the first true music TV offering in the Chrome App Store".
Santa Monica, CA (PRWEB) January 12, 2011
LP33 today launches its free music tv app, LP33 MUSIC TV featuring 14 video channels, tour news, bios, twitter updates, and personal playlists. The LP33 Music TV app is available today in the Chrome App Store and can be installed via chromeapp.lp33.tv. Google TV owners can access the app by directing their browsers to ww.lp33.tv and bookmarking it.
Viewers can enjoy current chart acts, new music discovered by LP33's own talent scout network as well as LP33 exclusive interviews and live performances. At launch you can enjoy live acoustic performances from Natasha Bedingfield, Neon Trees, The Ready Set, Athlete, and One Eskimo along with interviews by Waka Flocka Flame, Ringo Starr , OK Go, and Florence and the Machine to name just a few.
You can build and save your own video playlists or enjoy LP33's channels where you can skip forward and back on your big screen TV, laptop, or other connected device.
About LP33:
LP33 is a consumer facing entertainment and technology business operating multiple media networks and units in the US, Europe, and Asia.
Utilizing our proprietary technology platforms LP33 produces, broadcasts, and distributes video content across multiple current and emerging platforms. These include web, mobile devices, Facebook, IPTV (including Google TV), in-store, cable, and terrestrial broadcast. LP33 also operates a number of support units underpinning our core operations and these include an ad sales network, a music label, and a music talent scout division.
For more information please contact Steve Rosenblatt at LP33 - 310 453 1987
###