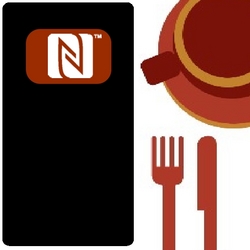 "The best way to build sustainable business is to recognize loyal customers and NFC technology accurately pinpoints loyal customers inside the restaurant."
Greenwich, CT (PRWEB) January 13, 2011
Enable Table™ NFC is the first commercial restaurant application to support Near Field Communications (NFC) technology on the Android market. Enable Table™ NFC allows the Nexus S user to touch their phone, at the end of a meal, to an Enable Table™ NFC Check Billfold and receive Welcome Back Coupons directly to their Nexus S, in participating restaurants. The coupons self organize until they are redeemed or expire. No scavenger hunts, elaborate rules, or games. Enable Table™ NFC is perfect for busy people who enjoy good food and enjoy saving money. Enable Table™ NFC is significantly more accurate and intuitive than GPS-based mobile coupons being offered today.
Enable Table™ Senior Vice President, Kevin Gallagher, commented, "Welcome Back Coupons arrive at the end of the meal and reward repeat business." Now with Enable Table™ NFC, restaurants accurately reward repeat business and customers collect savings directly to their smartphones. "The best way to build sustainable business is to recognize loyal customers and NFC technology accurately pinpoints loyal customers inside the restaurant." said Gallagher.
Enable Table™ NFC features include:

Touch to receive simplicity
Self organizing and easy to redeem coupons
No time consuming check-ins required
Welcome back loyalty!
Pricing and Availability:
Enable Table™ NFC is available for download in the U.S and Canada for the Google Nexus S at the Android market for FREE. For more information about Enable Table™ NFC, please go to EnableTable.com or contact Kevin Gallagher 888-617-5629 or Kevin(at)EnableTable(dot)com
# # #