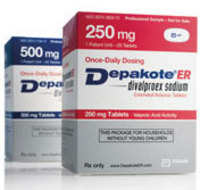 Abbott's impermissible off-label marketing of Depakote as a treatment for agitation and aggression in the elderly and health-care fraud arising out of that allegedly improper use
(PRWEB) January 19, 2011
Depakote Birth Injury Resources (DBIR or DepakoteBirthInjury.com) reports that the Wall Street Journal is investigating a federal probe into the pharmaceutical company Abbott Laboratories for their tactics in the sales and marketing of the anti-seizure medication Depakote. The U.S. Attorney's Office for the Western District of Virginia is investigating Abbott for "potential federal violations arising out of Abbott's impermissible off-label marketing of Depakote as a treatment for agitation and aggression in the elderly, and health-care fraud arising out of that allegedly improper use," U.S. District Judge Samuel Wilson wrote in an opinion dated March 10, 2010 (Source: "Abbott Told To Turn Over Emails", Wall Street Journal, April 13, 2010).
DBIR is also currently evaluating Abbot Laboratories for potential lawsuits related to the alleged birth defects and birth injuries that may be related to Depakote use by mothers during pregnancy (Source: "The Teratogenicity of Anticonvulsant Drugs", New England Journal of Medicine, April 2001).
Depakote is currently the most popular prescription drug currently on the market for treating both epilepsy and the manic phase of bipolar disorder. Depakote is estimated to have been used by over 2 million people since its first FDA approval in 1983 and is known by a host of other brand and generic names, including Depacon (valproate sodium), Depakote CP, Depakote ER, Depakote Sprinkles (dilvalproex sodium), Stavzor (valproic acid) and Depakene (valproic acid), among others.
Depakote is approved by the U.S. Food and Drug Administration to treat seizure disorders, acute manic episodes associated with bipolar disorder and to prevent migraine headaches, but not for treatment of agitation and aggression in the elderly.
The current investigation is centered specifically on the off-label marketing of the drug, not the off-label uses of the drug. Drug manufacturers are not legally permitted to tout FDA-approved medications for nonapproved—(off-label) purposes; however, physicians are free to prescribe medications off-label as they see fit. From 2003-2007, the FDA issued 42 notices of possible violations related to off-label drug marketing, which usually prompted the drug maker to drop its promotional claims. The cases included a drug approved for breast cancer and rectal cancer that also was being promoted for treatment of gastric, cervical, uterine, ovarian, renal, bladder, thyroid and liver cancers. An additional 11 cases involving off-label promotions wound up in the hands of the Justice Department during the same period. (Source: "Little Monitoring for 'Off-Label' Drug Marketing", MSNBC.com, July 2008)
The Wall Street Journal also reported that, in relation to the off-label marketing violations, federal investigators are looking into whether the company violated Medicare or Medicaid reimbursement laws related to this off-label marketing of the drug toward the elderly (Source: "Abbott Told To Turn Over Emails", Wall Street Journal, April 13, 2010).
"The government has indicated that it has evidence that the off-label marketing of other FDA-approved drugs may have followed a similar pattern to the off-label marketing of Depakote," Judge Wilson wrote. "If this is so, the off-label marketing of these other drugs may raise the same related health-care fraud issues that the marketing of Depakote raises" (Source: "Abbott Told To Turn Over Emails", Wall Street Journal, April 13, 2010).
A U.S. judge has ordered Abbott Laboratories to hand over to federal prosecutors some of its chief executive's email messages, believing that the emails may be central to the off-label marketing case. The original subpoenas sought emails sent or received from 13 specific Abbot staff members from 1996 through 2008, including a request for CEO Miles White's emails. Amid protests from Abbott that the request was 'too burdensome', the government offered to reduce the request to three individuals and asked Judge Wilson to order Abbott to comply.
Judge Wilson agreed with the prosecutors and stated that the subpoenas were not unreasonable and that they were relevant to the case and ordered the drug maker to turn over emails of White and two other top-level executives at the firm.
Abbott Laboratories was established by the physician Dr. Wallace Calvin Abbott in 1888 and currently has over 72,000 employees and operates in 130 countries worldwide. In 2008, Abbott had over $29 billion in revenue. Depakote was once one of Abbott's best-selling drugs, generating nearly $1.4 billion in sales for 2008. Abbott also produces a broad range of medical devices and nutritional products, including most notably the meal-replacement shake Ensure, and EAS, a system of nutritional supplements.
In December of 2009, the US Food and Drug Administration issued a warning to health care professionals and patients about the potential increased risk of birth injuries and birth defects when Depakote and related valproate sodium products are used by mothers during pregnancy. The FDA warning centers around the risk of possible neural tube defects (defects of the brain and spinal cord), craniofacial defects (cleft palate or abnormally formed face and skull) and cardiovascular malformations (abnormally formed heart or blood vessels) in babies exposed to these drugs during pregnancy. ("Birth Defects Related to Depakote and Related Products", http://www.fda.gov, December 2009)
Abbott Laboratories is currently being evaluated by Depakote attorneys and Depakote Birth Injury Resources (DBIR) for potential Depakote lawsuits related to the alleged birth defect link forewarned by the FDA. More information about Depakote lawsuits and birth defect resource information may be found at DepakoteBirthInjury.com.
# # #