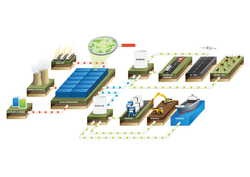 "The Algae.Tec McConchie-Stroud System is designed to produce valuable sustainable biofuels including biodiesel and bio jet fuels," said Stroud.
(PRWEB) January 13, 2011
Algae.Tec Limited ASX: AEB an advanced biofuels company with a pioneering highly-efficient algae growth and harvesting system (the McConchie-Stroud System) is listing on the ASX today at 10am WST today.
Algae.Tec CEO Roger Stroud said Algae.Tec will be the first algae company to list on a main board stock exchange in the world, and one of the few cleantech companies to list in Australia.
"The Algae.Tec McConchie-Stroud System is designed to produce valuable sustainable biofuels including biodiesel and bio jet fuels," said Stroud.
"The technology can also capture carbon pollution from power stations and manufacturing facilities which feed into the algae growth system."
"It is very positive for the economy, the environment, and the sustainable fuel industry."
Algae.Tec has two MOU's to deploy the technology in China and Australia. Additionally, the company has an MOU with Leighton Contractors for engineering and project management expertise.
The first demonstration plant is planned for The Manildra Group's Nowra facility in NSW.
The McConchie-Stroud System uses low-maintenance technologies and a highly efficient solar system to produce algae in one-tenth of the land surface as compared to the current pond method for producing algae.
The system is also designed to deliver the highest yield of algae per hectare, and solves the problem of food-producing land being turned over for bio fuel production.
The photo-bioreactors which are at the heart of the McConchie-Stroud algae production technology are designed to generate four revenue streams: oils which can be refined into biodiesel; carbohydrates (sugars) that can be used in the production of ethanol; proteins that can be used as feedstock for farm animals; and protein and carbohydrate biomass that can be combined to produce jet fuel.
About Algae.Tec
Algae.Tec was founded in 2008 with offices in Atlanta, Georgia and Perth, Western Australia. It has a highly experienced global team with over 200 years of technical, professional and business expertise in key energy and environmental industries and core competencies in bio fuel technologies, energy markets, Algae.Tec has conducted hundreds of laboratory, bench-scale and pilot tests and product trials to-date; assessed competitive algae technologies; and have applied the development phase results to detailed engineering evaluations of commercial plant operations. Collectively, these activities have led to the development of technology and know-how for high efficiency production of microalgae via a modular photo-reactor system and improved algae harvesting and product refinement technologies. Its algae technology has demonstrated exceptional performance, providing step-change improvements in productivity, product yield, carbon dioxide sequestration, plant footprint requirements versus agricultural crops and other competitive algae processes in the industry.
###