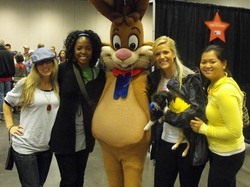 "Our team is committed to making as much of an impact as we can." - President of Archetype, Inc., Melissa White
Tigard, OR (PRWEB) January 13, 2011
Archetype, Inc., an outsourced sales and marketing firm, announced that they recently donated money to and participated in The Leukemia and Lymphoma Society's Light the Night Walk, an annual fundraising walk that commemorates lives touched by blood cancers in a celebration of music, refreshments, and family activities.
To raise money prior to the walk, the team at Archetype, along with President Melissa White, held a car wash, coming together as a team and working toward their goal. During the event, team members walked for a mile to remember those who had been affected by cancer.
Funds raised by teams and individual walkers provide lifesaving blood cancer research, free educational materials and events for patients and their families, local programs, and personalized assistance through the Information Resource Center.
"We were really amazed at how The Leukemia and Lymphoma Society contributes to the community," said President Melissa White. "We wanted to help raise money for the medical expenses of local families."
The team at Archetype was so inspired by their fundraising efforts for The Leukemia and Lymphoma Society that they are planning to participate in fundraisers for other charitable organizations in the near future.
"Giving back is so important," President Melissa White said. "We really feel that we are making a contribution to the community and the city we work in. Our team is committed to making as much of an impact as we can."
Follow Archetype on Facebook, Twitter, and the company blog.
About Archetype, Inc.
Archetype is an organization developed on the belief that the best approach to marketing is based on personal communication. Archetype strives to provide an entrepreneurial environment dedicated to developing successful business leaders. For more information, log on to http://www.archetypeinc.com or call (503) 430-1012.
###