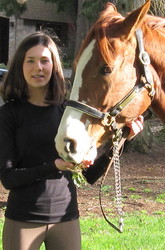 Alexandra is a very talented and committed young lady. She cares deeply about horses and the challenges they face.
Portland, OR (PRWEB) January 25, 2011
Alexandra Joy Gritta, fifteen-year-old Oregon author, announced today the distribution of donations from the 2010 profits of her new book "Mystery at Silver Key Stables" to seven different charitable organizations across the United States whose missions include the rescue, rehabilitation, and provision of safe habitats for horses in need.
Gritta is the president of the Charity Book Series®, Inc., a 501(c)3 charitable nonprofit corporation founded in 2009. As president, her duties include writing humane-themed fiction books about horses for young readers and donating the net profits from her book sales to charities that she has chosen herself.
The young author shows sincere compassion for the increasing challenges horses face in today's struggling economy: "The sad reality is that many people can no longer afford to keep and provide care for their horses. The charities I have selected help by offering support and services for horses that are abandoned, neglected, abused or stolen. I love horses and always give them happy endings in my stories. Donating to charities that help horses is a way I can give real horses happy endings too."
The charities Gritta has personally chosen to support are: United States Equine Rescue League; Thoroughbred Retirement Foundation; USEF Equine Disaster Relief Fund; Hope for Horses, North Carolina; ASPCA; Stolen Horse International/NetPosse.com, and; Whispering Winds Equine Rescue.
Gritta was a finalist with honorable mention for the Humane Society "2010 Humane Teen of the Year Award" for her charitable work on behalf of horses. She is also acting editor for the Stolen Horse International newsletter, an organization founded to assist horse owners with the recovery of their stolen animals.
You may be wondering what's next for this young, horse-loving, Oregon author. In her next book, "Élan, Journey of a Stolen Horse", Gritta says she will give a stolen Thoroughbred mare a voice to narrate her own story after being abducted from a riding stable in Virginia. When asked if there will also be a happy ending for the horse in her next book, she smiles and answers, "Of course!"
More information about Alexandra Joy Gritta and the Charity Book Series® can be found on her website.
Book Summary: "Mystery at Silver Key Stables" is a middle-reader chapter book for ages 8-12. Kelly, the teen-age heroine of the story, is a young girl who has been unwillingly uprooted from her beloved home in Montana to the rainy state of Oregon. Friendless and lonely, Kelly struggles to fit in at her new school and adjust to the dreary climate. Her heartache is eased somewhat by her great love for the horses at Silver Key Stables: a place where she finds comfort and connection. Unfortunately, when she also develops a dangerous fascination with a wild black stallion that runs free on an adjacent mustang reserve, Kelly finds herself inadvertently pulled into the shocking underworld of horse theft. A slowly unfolding mystery forever changes the lives of many, horse and human alike. The epilogue in the back of the book profiles each horse's background, temperament, and ultimate fate, and is exquisitely illustrated by Delia Pacheco. Available online at Amazon.com, Powells.com and BarnesandNoble.com.
ISBN 978-0-9842261-1-5.
Reviews for "Mystery at Silver Key Stables":
Kirkus Discoveries Review
"...14-year-old Gritta writes about what she knows and loves: horses. Using simple imagery and an eye for detail, the author brings the stables, horses and riding trails into clear focus for young readers, who will be drawn to the spirited characters--human and horse. Breathtaking illustrations and well-written passages describe the stolen horse's temperament, background and ultimate fate. A compelling story written with familiarity and tenderness."
Judge's Commentary, 18th Annual Writer's Digest Book Awards
"...the style and plot, the characters (especially the description of the horses) are all quite polished and enjoyable..."
Alexandra Marks, Christian Science Monitor
"…impressive…clear, simple and evocative and the…plot is laid out and woven well."
Sharon Miner, Author, "Beloved Horses" Book Series
"This fictional horse story is interesting, exciting, realistic and emotionally satisfying...the teen voice provided a viewpoint that an adult writer could not achieve...
# # #