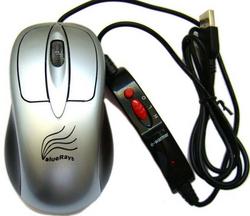 "It was a delightful surprise to receive an email from Early Show Producer Greg Tufaro about the Heated Mouse," said Anna Miller of ValueRays®, "We've always known the Heated Mouse was a great invention, and now CBS News shared the warming mouse with TV v
North Palm Springs, CA (PRWEB) January 17, 2011
Just in time for chilly work environments and frozen fingertips, the Heated Mouse by ValueRays® made its debut on CBS News - The Early Show with High Tech and Toasty Gadgets to Keep You Warm! Erica Hill and Brett Larson presented the heated tech gadgets segment and featured the Heated Mouse on January 11, 2011.
"It was a delightful surprise to receive an email from Early Show Producer Greg Tufaro about the Heated Mouse," said Anna Miller of ValueRays®, "We've always known the Heated Mouse was a great invention, and now CBS News shared the warming mouse with TV viewers everywhere!"
The Heated Mouse is available in two styles and prices range from $30-$35 with free USA shipping and no sales tax nationwide at HeatedMouse.com.
The special warm mouse is designed using a carbon fiber heating element making the heat generated from the mouse "infrared heat." Infrared heat warms the object not the air around it to create deep penetrating warmth through the skin's layers to the muscle tissue. People with arthritis, Raynauds, poor circulation, carpal tunnel and other hand ailments enjoy the infrared heat generated by the heated computer mouse.
YouTube features a viral video called Hot & Sexy - In Your Hand! Search YouTube for Heated Mouse. At the end of the video, there's a coupon code for 10% off at HeatedMouse.com. Make sure to watch the video to get the 10% off coupon code.
ValueRays® Infrared Heated Gadgets are available online at ValueRays.com and HeatedMouse.com. There are deep discounts available because the more you buy, the more you save. See the websites for more details.
# # #