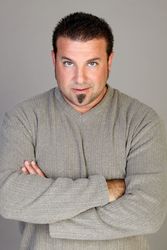 "Billy brings a certain naive genius to the game.......he has a kind of intuition that is rare in the Design World!"
Beverly Hills, CA (PRWEB) January 18, 2011
Known to insiders as the go-to guy for all things tactile, visual or mechanical, Billy Derian expands his design business to include media development and luxury toys. For over 20 years, Derian has been collaborating covertly with International design firms on private aircraft, yacht, powerboat, automotive, luxury coach & tour bus interior designs.
"Billy brings a certain naive genius to the game," says designer Jodi Vigier. "He has no creative filters that limit his imagination.....Billy D is a bit crazed and wacky in his approach, integrating and blending previously unused metals, textures and natural elements into his luxury-market projects! Fire, water, aromas and tactile experiences are morphed seamlessly into the B2 Design schemes. It is as if Billy gets into the client's head and knows what will evoke emotional response....a kind of intuition that is rare in the design world!"
In addition to the expansion of Billy Derian's design portfolio, media/television show development with major networks is a clear focus for B2 in 2011.
"I have been so diversified in my design business that it is time to find the specific niches that really make me pump my fists in the air! I want to wake up every morning, stare out the window and yell... HEY, let's do some amazing stuff today! I am so well known for my automotive (hot rod), landscape/outdoor and environmental design work (...mostly due to television shows I have hosted) but now, I want the world to know how enthusiastic my firm is about introducing my own brand of cool.....I mix juxtaposed elements that should not even be in the same sentence or visual realm into abstract scenes of wonder! My visual cues hit your corneas, zap your cortex, then blow your mind!"
The Billy Derian experience will also translate in a big way to your TV set this year. Mr. D will have no less than 3 national design shows on air by this Spring and will no doubt be the water cooler buzz of 2011.
###