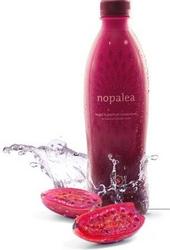 Scottsdale, AZ (PRWEB) January 18, 2011
Over 1.7 million bottles of Nopalea™ – the natural anti-inflammatory drink by TriVita – have been sold, announced the company. Reports of improvements in inflammation-related conditions such as joint pain, body pain, skin conditions, breathing difficulties and more have come in from across North America.
Inflammation, which has been linked to a wide variety of health conditions, can stem from exposure to toxins, environmental pollutants and chemicals, as well as trauma, deficiency and stress. Inflammation is the body's natural immune response to the damage caused by these exposures; inflammation helps overcome the damage and repairs tissue. However, chronic inflammation occurs when inflammation doesn't work properly and begins to harm healthy tissue. Then the inflammation continues unabated, which can lead to numerous health problems. TriVita developed Nopalea to help the body lower this inflammation and help the body detoxify. Users of Nopalea have reported results that range from reduced pain and blood sugar levels to improvements in skin conditions and breathing.
Nopalea is sourced in part from the fruit of the Nopal cactus, which contains Betalains: rare, natural antioxidants that are found in only a few of the world's plants including the fruit of the Nopal cactus, Swiss chard, beets, and some weeds and fungi. The Nopal fruit contains one of the highest amounts of Betalains in all of nature. Eating foods rich in Betalains as part of an anti-inflammatory diet has shown to reduce overall swelling.
Betalains, alongside other ingredients in Nopalea, increase the activity of CYP-2E1, a special enzyme that neutralizes daily toxins. This can help protect cells against the hormone disrupters, respiratory toxins, developmental toxins and neurotoxins that are responsible for one-quarter of the world's diseases. When fewer toxins surround cells, more nutrients can reach them. More nutrients mean that the cells are better equipped to repair and replace damaged tissues, and reduce the reactive inflammation that toxins promote. Additionally, scientific research shows that Betalains can help the body reduce the risk of blood clots by protecting the thin lining of blood vessels, which helps reduce the inflammation that makes blood sticky and can lead to clots.
TriVita launched Nopalea in June 2009, and it has since become their best-selling product. The company expects to sell their two millionth bottle of Nopalea in the first quarter of 2011. TriVita is a Scottsdale-based wellness company that encourages people everywhere to experience wellness®: physically, emotionally and spiritually. Learn more about Nopalea at nopalea.com.
# # #