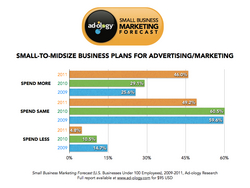 Small businesses are becoming increasingly savvy on how to market online, and their plans for increased spending on video and mobile show they are ready to try new ways to reach the customer
Westerville, OH (PRWEB) January 18, 2011
Websites and email are still the top ways small businesses market online, but interest in newer tactics - including online video, mobile marketing and group deals - is up sharply for 2011, according to Ad-ology Research.
Ad-ology's 2011 Small Business Marketing Forecast found that 45.5 percent of small businesses say they plan increased resources for online video, up from 28 percent in 2010. More than 36 percent say the same about mobile apps and advertising, up from 21 percent last year. Approximately 15 percent say group deals and social couponing sites like Groupon and LivingSocial are beneficial to business.
"Small businesses are becoming increasingly savvy on how to market online, and their plans for increased spending on video and mobile show they are ready to try new ways to reach the customer," said C. Lee Smith, president and CEO of Ad-ology Research. "They may not have the resources of big businesses, but things like online and social media help level the playing field," Smith said.
Interest in using Facebook, Twitter and other social networks for business also is up considerably. While generating leads continues to be the top perceived benefit of social media, more businesses recognize the value of social media for improving the customer experience.
Other key findings:

Nearly half of SMB owners plan increased ad spending for 2011; just 29 percent said that for 2010.
Twenty two percent say trying to understand online advertising frustrates them.
Sixty four percent report having a website, up nearly 20 percent from the surprisingly low 53 percent last year.
Fifty percent say they plan to devote more resources to trade shows in 2011.
Traditional media types such as direct mail (24.9%) and newspapers (19.2%) also should see increased resources in 2011.
The study was conducted in November 2010 by Ad-ology Research to analyze the attitudes and marketing plans of small business owners. The Small Business Marketing Forecast report is available for purchase through the Research Store at Ad-ology.com.
ABOUT AD-OLOGY RESEARCH
Ad-ology Research analyzes key marketing and advertising trends in more than 440 industries and what motivates end-customers. The company's research is used by over 2,000 advertising agencies, media properties, local governments and product marketing departments across the United States. Ad-ology Research is a division of Sales Development Services (SDS), Inc. - a Westerville, Ohio firm founded in 1989.
METHODOLOGY
Ad-ology Research surveyed an online panel of 752 owners of U.S. businesses with fewer than 100 employees in November 2010. The margin of error for this survey is +/- 3.57 percentage points.
EDITOR'S NOTE: The Ad-ology trade name should be hyphenated in all printed references.
PRESS CONTACT:
Michelle O'Brien
(614) 794-0500 ext. 100
pressrelations(at)ad-ology(dot)com
###