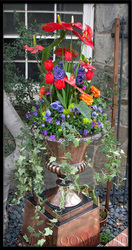 "Tu is fantastically talented and has an eye for detail. His creative talent in botanical design and entrepreneurial ambition are exceptional ... his keen listening skills positions him to meet and exceed his clients expectations." -- M. Adly
Chicago, IL (PRWEB) January 21, 2011
On February 13, 2011, the world will watch the 53rd Annual GRAMMY Awards®, and Award-Winning Garden designer Mr. Tu Bloom, owner of Tu Bloom Designs®, will dazzle the red carpet with his beautifully striking garden creations.
With a powerful connection to the botanical world and an impressive ability to creatively rejuvenate any garden or landscape setting, Tu Bloom Designs® will bring additional vibrance and energy to the GRAMMY® Red Carpet and Music's Biggest Night®.
Mr. Tu of Tu Bloom Designs® will have his captivating botanical compositions prominently displayed all throughout the prestigious Red Carpet arrivals area at The 53rd Annual GRAMMY Awards held on "GRAMMY Sunday," Feb. 13, 2011, at STAPLES Center in Los Angeles. The event will be broadcast live on CBS from 8 – 11:30 p.m. (ET/PT).
Tu Bloom Designs' unforgettable introduction to last year's 52nd GRAMMY Awards, in partnership with the GRAMMY Gift Lounge presented by Distinctive Assets, gained him international recognition for his keen eye and unique yet globally sensitive interior garden and exterior landscape designs. In addition to his work at the GRAMMY Awards, Mr. Tu routinely works with various private residential and commercial clients nationally.
Tu Bloom Designs®, founded in 1998, has grown to be a nationally known garden design corporation trusted that undertake the simplest to the most demanding of projects for special events, and both residential or commercial garden settings. Tu Bloom's mission is based on providing an economical and methodological approach to every project so to enrich the garden experience for those whom they work with. Currently the Tu Bloom Team is servicing Chicago, Los Angeles, New York and Miami. Enrich your life, home, office, garden or landscape and experience our renowned seasonal garden services year round. Visit us at http://www.TuBLOOM.com for your momentary escape in a garden sanctuary today.
Tu Bloom Designs®
888.802.2566- Main
773.756.2333- Chicago
213.330.0338- Los Angeles
888.333.8986- Fax
http://www.tubloom.com
Media Contact Information
(press@tubloom.com)
FACEBOOK FAN PAGE:
http://www.facebook.com/home.php#!/pages/Tu-Bloom/274984627754
@@@