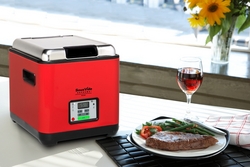 Voulez-vous sous vide avec moi, ce soir?
Seattle, WA (PRWEB) January 22, 2011
Voulez-vous sous vide avec moi, ce soir? That's the question of the night for those who want to whip up a romantic Valentine's Day dinner on this day of love, as the SousVide Supreme Demi takes center stage as one of the hottest Valentine's Day gifts for foodies.
"Everyone is looking for a unique Valentine's gift to really wow their special someone," said Chef Richard Blais, a sous vide enthusiast known for his appearances on Top Chef. "The SousVide Supreme Demi is perfect because foodies will love receiving it as a gift, and if you give it in advance and do a little pre-planning, you can put it to use right away and cook a fun gourmet meal together and celebrate a romantic Valentine's night in."
Particularly suited for the holiday, the compact new SousVide Supreme Demi is available in bright red and will come packaged with an inviting "Voulez-vous sous vide avec moi, ce soir?" coffee mug for any orders placed between January 31 and February 14, 2011. To help plan the perfect day, SousVide Supreme has also compiled a complete sous vide Valentine's Day menu including Rosemary Beef Rib Roast, Sage Carrots, Strawberries & Cream and a Raspberry infused cocktail, found at http://www.sousvidesupreme.com/valentines_menu.htm.
Sous vide – a French technique – is a booming trend on the culinary scene, and the SousVide Supreme water oven is in high demand because it makes it easy and affordable for anyone to cook sous vide at home. The technique involves vacuum-sealing food in airtight pouches, then simmering the pouches in a low-temperature water bath with a precisely maintained temperature throughout the cooking duration. With this method, food is gently cooked to perfection from edge to edge, flavor and texture are enhanced, nutrients are locked in, and users can prepare perfect gourmet-quality meals every time.
The SousVide Supreme Demi is available in five colors, including red, white, black, cobalt and grey, and retails for $299.95USD (MSRP); the larger, original SousVide Supreme retails for $449.95 USD (MSRP). All models are available at http://www.sousvidesupreme.com, where visitors can also find a complete line of sous vide accessories including vacuum-sealers, bags, cookbooks, seasonings and other merchandise.
About SousVide Supreme
Passionate about nutritious, flavorful foods, the Eades family and their research experts at US-based Eades Appliance Technology LLC created the SousVide Supreme and a range of sous vide cooking products. Sous vide is an extremely effective method of cooking whereby food is vacuum-sealed in airtight, food-grade pouches and submerged into a water bath at precisely controlled temperatures—often much lower than used in traditional ovens, but for a longer time. A technique long respected by gourmet chefs for its reliability and improved food quality, sous vide cooking is now available to everyone—from the accomplished cook to the rank novice—thanks to the SousVide Supreme product line. http://www.sousvidesupreme.com
Editor's note: media units are available on request.
###