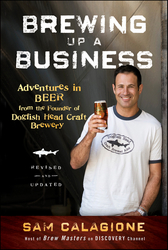 We are "off-centered," meaning that we're not going to appeal to the majority. - Calagione
Hoboken, NJ (PRWEB) January 24, 2011
Sam Calagione, founder and owner of Dogfish Head Craft Brewery has been busy since his first book with Wiley in October 2006. With new, exotic beer creations, a show on the Discovery Channel, "Brew Masters" and the April launch of "Birreria", a Mario Batali and Joe Bastianich brewpub on the rooftop of Eataly in New York City – Sam Calagione understands what it takes to succeed in business, the off-centered way.
With everything going on in the life of Sam Calagione, it's time for an updated version of his latest book, Brewing Up a Business. Set to publish in February 2011, Calagione offers a deeper real-world look at entrepreneurship and what it takes to operate and grow a successful business in "Brewing Up a Business: Adventures in Beer from the Founder of Dogfish Head Craft Brewery, Revised and Updated, 2nd Edition" (Wiley; ISBN: 978-0-470-942314).
Starting with nothing more than a home brewing kit and a small Manhattan stove, Sam Calagione founded Dogfish Head Craft Brewery almost sixteen years ago. A fateful job waiting tables introduced him to micro brewed beers. After bankers dismissed his original business plan, he raised $220,000 from friends and family to open Dogfish Head Brewing & Eats, a 150-seat restaurant-brewpub in downtown Rehoboth Beach, Delaware.
How has Dogfish Head stood out amongst the Bud and Coors of the world? It's easy; their original mission of "off-centered ales for off-centered people" still resonates as much today, if not more, than it did almost sixteen years ago when they opened in 1995. At that time - they were the smallest commercial brewery in the country, today they are one of the top 25 breweries in America, out of 1600 breweries.
The focus of Dogfish Head has been to make beers that veer away from referencing commercially dominant styles. Rather, they incorporate exotic ingredients from around the world to create off-centered ales. In 2010, Dogfish Head was able to share and explore their passion through national television on Discovery Channel's "Brew Masters". This has given the brewery an opportunity to not only spread the word about their brand but the craft brewing renaissance sweeping the globe.
Sam Calagione's, BREWING UP A BUSINESS 2E offers several new chapters, offering Dogfish Head's most innovative marketing ideas, including how social media has become an integral part of the business model and how other small businesses can use it to catch up with bigger competitors. Calagione presents a compelling argument for choosing to keep his business small and artisanal, despite the growing demand for his products. Also, new content expands on the art of differentiating products and services in a crowded marketplace.
A highly entertaining and an enlightening first-hand tale, BREWING UP A BUSINESS 2E depicts the life of the company's rise from the smallest commercial brewery in the country to the fastest growing brewery in the United States. The book is as unique and offbeat as the brewery that inspired it. Instead of being inspired by the Jack Welchs and Peter Druckers of the world Sam writes of a business philosophy based on lessons from Andy Warhol, Ralph Waldo Emerson, Bob Dylan, Miles Davis and Walt Whitman.
Sam Calagione emphasizes their off-centered philosophy in the upcoming 2nd edition of BREWING UP A BUSINESS, "We are "off-centered," meaning that we're not going to appeal to the majority. That said, we've been able to carve out a very healthy niche, growing by catering to a very small but increasing and very engaged minority beer drinking population – those who want more flavor, more diversity, more complexity, more food compatibility in their beer. Those are the folks we've grown with; and, there's a lot more of them today than there were when we were the smallest craft brewery in the country. "
Calgione's innovative style has earned him a reputation as one of America's most adventuresome brewers and businessmen. He was named by The Small Business Association as Businessman of the Year for 2004 and has been recognized as the youngest person to be named to the Board of Directors for the Association of Brewers.
With real lessons on entrepreneurship, as well as practical ideas on nontraditional marketing, BREWING UP A BUSINESS 2E is a business story that will open readers' eyes to the benefits of thinking outside the box. Using unconventional marketing and promotional techniques as well as a strong-willed determination to succeed, Sam and his team at Dogfish Head have defied the odds and built a successful business within an industry that is ruled by massive companies, strict government regulations and large advertising budgets.
About the Author:
Sam Calagione (Milton, DE) is the founder and owner of Dogfish Head Craft Brewery , the nation's fastest growing independent brewery, and Dogfish Head Brewings & Eats in Rehoboth Beach, DE. His innovative style has earned him a reputation as one of America's most adventurous entrepreneurs and brewers. He has been named Businessman of the Year by The Small Business Association and is the youngest person to be named to the Board of Directors for the Association of Brewers. Sam has been featured in publications as diverse as Wall Street Journal, BusinessWeek, Playboy, People, and Bon Appetit, and is the host of the new series Brew Masters on Discovery Channel.
For more information visit http://www.dogfish.com/
Follow Dogfish Head Craft Brewery on Twitter: @dogfishbeer
To schedule an interview or receive a review copy, Contact: Heather Condon, WILEY - 201-748-6017 - hcondon(at)wiley(dot)com
# # #