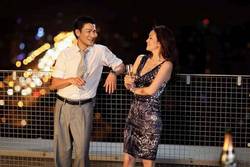 It's a treat to be able to offer up a film starring Andy Lau and Gong Li, two of the world's biggest stars, to audiences in the U.S. and Canada in celebration of the Year of the Rabbit.
Los Angeles, CA (PRWEB) January 26, 2011
China Lion Film Distribution will open the Mandarin-language remake of 'What Women Want' (Wo Zhi Nu Ren Xin), starring Andy Lau and Gong Li, on the first day of the Lunar New Year, February 3rd, at select theaters throughout North America, as well as day-and-date in China and releasing in Australia and New Zealand. The film will be the first China Lion release for 2011, following the overwhelmingly successful holiday release of Feng Xiaogang's 'If You Are The One 2' (Fei Cheng Wu Rao 2), which marked the first time a film opened day-and-date in both China and the North American (U.S. & Canada) market.
Written, directed and produced by Chen Daming, and starring Andy Lau, Gong Li, Yuan Li and Julian Chen, 'What Women Want' is a romantic comedy based on the Paramount Pictures, Nancy Myers-directed film of the same name, revolving around a chauvinistic executive (Lau) who gains the ability to hear what women are really thinking – including his workplace rival, an aggressive advertising executive (played by Gong Li). Using his newfound ability to his advantage, he becomes an expert on female psychology – and romance blossoms.
Andy Lau, the legendary actor and singer, who holds the Hong Kong Guinness Record for the most music awards, has starred in over 100 films, including 'Infernal Affairs,' 'House of Flying Daggers,' 'Warlords,' 'Detective Dee & the Mystery of the Phantom Flame' and 'Running Out of Time.' He is also the founder of the program "Focus First Cuts," which aims to nurture first-time filmmakers across Asia. He received the Justice of the Peace honor by the Hong Kong government in 2008.
Gong Li's long history in Chinese cinema dates back to 1987 when a then 21-year-old Li starred in Zhang Yimou's directorial debut 'Red Sorghum.' Since then, she's gone on to super-stardom with such modern classics as 'Raise the Red Lantern,' 'Ju Dou,' 'Farewell My Concubine' and 'Curse of the Golden Flower.' American audiences are probably most familiar with her from her role opposite Colin Farrell and Jamie Foxx in Michael Mann's film 'Miami Vice' as well as 'Memoirs of a Geisha' and 'Hannibal Rising.'
Milt Barlow, China Lion's CEO, said about the film: "We are delighted to work with producer Polybona for the Chinese New Year release of 'What Women Want' on the same date as China. It's a treat to be able to offer up a film starring Andy Lau and Gong Li, two of the world's biggest stars, to audiences in the U.S. and Canada in celebration of the Year of the Rabbit."
Polybona Film Distribution Co. Ltd. CEO Yu Dong said "We are delighted to be able to work with China Lion in bringing this fantastic Chinese romantic comedy to North American audiences for the Chinese New Year. For Polybona, who recently listed on the New York Stock Exchange, this marks a new historical point for the company."
The film is currently slated to open February 3rd, 2011, at specially-selected AMC theaters in Los Angeles, San Francisco, New York, Toronto, Boston, Seattle and Washington, D.C., and at Cineplex theaters in Vancouver.
The film's trailer can be accessed at the official China Lion website at http://www.youtube.com/watch?v=_DGGuqCmVgg
About China Lion
China Lion Film Distribution is headed by its President Jiang Yanming and CEO Milt Barlow. China Lion has distribution agreements with a number of China's leading producers, including Huayi Bros, Shangahi Film Group and PolyBona among others, in addition to its exclusive exhibition agreement with AMC in the U.S. and Toronto and Cineplex in Vancouver. China Lion plans to release ten to fifteen films yearly, with 'The Butcher, The Chef and the Swordsman' its next planned release on March 18th, 2011, to be co-distributed with Fox International Productions. Wherever possible, China Lion will seek to release its films day-and-date in both mainland China and overseas.
Yanming has operated in the motion picture business in China for more than 30 years and is a founder of Technicolor Beijing as well as a veteran Chinese producer. Barlow is a 25-year veteran of distribution in Australia and New Zealand and served as CEO of Village Roadshow Entertainment in Australia for more than a decade.
China Lion can be found on the web at http://www.chinalionentertainment.com/
Cast & Crew List
Present
Bona Entertainment Company Limited
Beijing Bona Film and Cultural Communication Co., Ltd.
Focus Films Limited
Emperor Motion Picture Limited
CJ Entertainment Inc.
China Film Group Corporation
Production
Bona Entertainment Company Limited
Starring
Andy Lau Gong Li
Special Appearance
Yuan Li
Co-starring
Julian Chen Li Chengru Russell Wong Wang Deshun
Guest Starring
Hu Jing
Art Director
Li Zhuoyi
Costume Director
Li Yikai
Director of Photography
Max Wang
Edited by
Nelson Quan DMC
Original Score
Christopher O'Young
Sound Director
An Wei
Administrative Producer
Zhao Haicheng
Supervising Line Producers
Jiang Zhong Shi Dongming
Supervising Producers
Zhang Hao Albert Lee Mike Hyun-Dong Suh Han Xiaoli
Executive Producers
Yu Dong Jeffrey Chan Andy Lau Albert Yeung
Katharine Kim Han Sanping
Executive Produced by
Chris Liu
Principal Producer
Yu Dong
Produced by
Dede Nickerson Chen Daming Jeffrey Chan
Story by
Josh Goldsmith & Cathy Yuspa and Diane Drake
Screenplay by
Josh Goldsmith & Cathy Yuspa
Adaptation and Directed by
Chen Daming
Distributed by
Distribution Workshop (HK) Limited
For further information or additional promotional materials, please contact Cecilia Chen at cecilia(at)chinalionentertainment(dot)com.
###