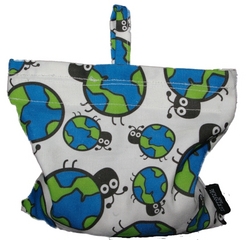 I no longer have to use and throw away 2 or 3 plastic bags every day! And my kids love the designs!
Basalt, CO (PRWEB) January 26, 2011
A new company called Earth Swag TM is introducing a line of reusable snack bags and sandwich wraps.
There are few alternatives to small, plastic bags... until now. Earth Swag TM is releasing two products that are alternatives to plastic bags. The snack bags are a way to pack snacks to take for lunch, in the car or out for a hike. The sandwich wrap will keep a sandwich snug until lunch and then open into a placemat.
Earth Swag TM reusable snack bags and sandwich wraps are made of a patented cotton that is both food-safe and bacteria-inhibiting. The fabric is also stain resistant, water-resistant and machine washable. The bags and wraps have no plastic coating or liner, and the fabric contains no phthalates, lead, PVC or polyurethane. Additionally, the fabric is printed with images of the Earth incorporated into various whimsical designs.
Each baggy purchased has the potential to keep hundreds of plastic baggies out of our oceans, streams, and landfills each year. Earth Swag TM has partnered with Carbonfund.org to offset their carbon footprint, and the business is committed to green practices.
The product line includes:
1. a set of 2 snack baggies, (7" X 7", retail $15.95)
2. a sandwich wrap that opens up to a place mat (14" X 14", retail $11.95)
Both products are available in 2 prints: Bugs or Flowers.
Earth Swag TM reusable snack bags and sandwich wraps provide people who are tired of plastic bags a safe and environmentally friendly way to pack their lunch or take snacks on the go.
# # #