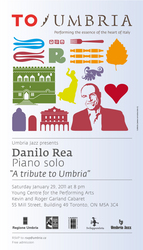 Toronto, ON (PRWEB) January 26, 2011
Renowned for its medieval hillside towns, ancient cultural heritage, food and festivals, the Region of Umbria is coming to Toronto at the end of January to celebrate the 25th Anniversary of the Umbria Association of Ontario.
Umbria is the geographic centre of the Italian Peninsula. Its cuisine, culture, arts, trade and tourism will be celebrated first in the traditional heart of Toronto's Italian Community - the Columbus Centre - and secondly, in the Distillery District where Umbria Jazz, - the most prestigious jazz Festival in Europe - will present a solo piano concert by Danilo Rea. The concert will be held at the Young Centre for the Performing Arts, Kevin and Roger Garland Cabaret, Saturday January 29 January 2011 at 8 pm.
About Umbria Jazz:
Umbria Jazz was founded in 1973. Today it is the most prestigious jazz festival in Europe, attracting July of each year a quarter of a million people to Perugia, Umbria's capital city.
Carlo Pagnotta, the Artistic Director of Umbria Jazz and founder of the Hot Club of Perugia (circa 1950), played a key role in persuading jazz legends such as Louis Armstrong, Chet Baker and Dexter Gordon to perform in Perugia. With the new found promotional success, in 1973, he approached the Umbrian Regional Government with the idea of Umbria Jazz. Over three decades since inception, the roll-call of performers at Umbria Jazz is peerless. A list of greats, such as Miles Davis, Ella Fitzgerald, Sarah Vaughan, Thad Jones, Dizzie Gillespie, Stan Ggets, Wynton Marsalis, Sting, Herbie Hancock, Clark Terry and more have all graced the Umbria Jazz stage.
About Danilo Rea:
One of Italy's leading jazz pianists, Danilo Rea received musical training and his degree from the Santa Cecilia Conservatory in Rome. Among the artists he has worked with on-stage and in the recording studios are Chet Baker, Lee Konitz, Steve Grossman, Bob Berg, Michael Brecker, Billy Cobam, Aldo Romano, Dave Liebman, Joe Lovano, Brad Mehldau and others. In the field of Italian pop music, he has collaborated with the likes of Mina, Pino Daniele, Claudio Baglioni, Fiorella Mannoia and many others. He has given concerts in Italy, France, England, Germany, China, Japan, Brazil, India, Mexico and the Unites States . He is currently the part of the trio "DOCTOR 3", one of the most highly-acclaimed groups in Italy. He is a much sought after performer in classical music settings. At the Umbria Jazz mini festival in New York in March 2006, Danilo Rea performed an astonishing solo concert based on operatic arias at the Guggenheim Museum. In recent years he has dedicated himself to teaching master level classes in jazz and jazz improvisation techniques.. In Toronto he will be performing " A tribute TO- Umbria", a piano solo concert inspired by the images of the Region of Umbria.
###