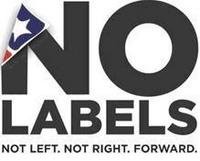 Washington (PRWEB) January 26, 2011
In an effort to build on the bipartisanship of last night's State of the Union address, No Labels today outlined a four-point plan for achieving the President's goal of getting Washington working together again.
No Labels, a national movement of concerned citizens formed to build a new politics of problem-solving, issued the following statement today:
"Tuesday night, President Obama put the 'union' back in State of the Union. He was civil and respectful and stressed his desire to work with both parties in Congress on many important issues, especially the economy. Members of Congress showed they love their country more than their party by throwing away the seating chart.
"But the true test going forward will be one of deeds, not words. There are a litany of tough choices ahead that will require compromise and conciliation from our elected leaders. Members of Congress know from their constituents that voters will no longer accept gridlock. No Labels calls on our elected leaders to build on the momentum of the State of the Union by implementing four needed reforms."
► Bipartisan Presidential meetings: The President should pledge to meet with the leadership of both political parties in the House and the Senate on a monthly basis to foster ongoing dialogue and seek areas of common ground.
► Bipartisan caucuses: In addition to the weekly Democratic and Republican caucus meetings, House and Senate leadership should schedule monthly luncheons focused on relationship-building across the left-right divide.
► Committee seating: Just as they did last night, lawmakers should sit together without regard to party affiliation on a permanent basis during committee hearings and markups. House and Senate committees should sit members according to seniority rather than party label when holding hearings and writing legislation.
► Ban on partisan 'message' bills: House and Senate Committee chairs should require at least one co-sponsor from each party before any bill receives committee consideration. With a divided Congress, no bill has a chance to become law without bipartisan support. Congress should abandon the time-consuming futility of sending political messages and instead send good legislation to the president for his signature to solve our economic and foreign policy challenges.
No Labels is organizing chapters in all 435 congressional districts and 150 college campuses to hold elected officials accountable for their rhetoric and their commitment to ending legislative gridlock and solving problems. No Labels will provide a forum and community for Americans of all political backgrounds interested in seeing the nation move not left, not right, but forward.
To learn more about the No Labels movement, go to http://www.nolabels.org
###