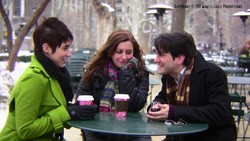 New York, NY (PRWEB) January 27, 2011
From the initial concept several years ago to its final form, "Love Eterne" has undergone many transformations. In the early 1990's, it began as a short story that would have become a novel until a few stumbling blocks threw it off course. Then, there was a failed attempt to turn the all text novel into a photographic one. A few years ago, there was an attempt at making a short film, but that too had derailed. Then, as 2010 began, pre-production on a feature film showed promise, rehearsals followed, then actual filming was in full force. All looked well, until the gremlins returned and caused havoc, halting production once again. Fortunately, production was put back on course and the premiere may actually be a reality.
Melissa Navia plays Medina, a late 20 something woman of the new millenia. After the tragic loss of her fiancé, everything in her life seems to be going downhill. She turns to her best friend Tesla (Romy Valentina) and brother Enzo (Francesco Plazza) for a way out. Meanwhile, 30 something Quinn's (James Gill) girlfriend left him, taking everything with her. Quinn's best friends, Fera (Terilyn Marshelle-Fleming) and her husband Camden (Jorell Stills Haigler), make sure he doesn't do anything irrational.
Bonnie Piesse, probably best known for her role as young Aunt Beru in the last two Star Wars feature films, has an integral role as Sidonia, Medina's reliable psychic, mentor and confidante.
Rounding out the rest of the cast are Andre Correa, Julio Perez and Joseph Villapaz making a brief cameo appearance.
"Love Eterne" is scheduled for a private screening on Saturday, February 19, 2011 (1:30pm to 3:30pm) at the Anthology Film Archives located at 32 Second Avenue, New York, NY 10003. Attendance is by invitation only.
###