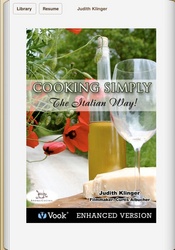 Cooking Simply The Italian Way is like having a private cooking class in Italy. The delicious recipes and easy to follow videos can make anyone a confident home cook.
New York, NY (PRWEB) February 1, 2011
Food blogger and personal chef, Judith Klinger, has partnered with Vook to publish Aroma Cucina's first video enhanced cookbook. Aimed at home cooks who want to learn the ease of Italian lifestyle cooking, this cook Vook creates a bridge between print cookbooks and online cooking resources.
Apple believes so much in this platform, "Cooking Simply The Italian Way" was featured as "New & Notable" in the iBooks store. Cook Vooks are paving the future of cookbook publishing.
The New York Times and Wall Street Journal think Vook has pioneered the emerging market of video enhanced books. It's multi platform capabilities make it available for use on iPad, iPhone, iPod, as well as in iBook and eBook formats.
"Cooking Simply: The Italian Way" was shot in postcard gorgeous Umbria, so propping open this Vook on the kitchen counter transforms a home kitchen into a private cooking lesson in Italy. It includes the traditional components of a cookbook, including a glossary, lists of pantry essentials and kitchen tools, helpful links, and has all the advantages of a digital book.
These essential recipes embrace seasonal cooking with whole, unprocessed foods. They encourage developing critical knife skills, making efficient use of time in the kitchen. The recipes develop confidence by using unique ingredients in more than one recipe; a roasted pear and Gorgonzola salad for a starter or a decadent poached pear dessert. These are all skills that are simply part of the Italian way of life. Interwoven with these recipes are morsels of entertaining culinary history.
Unlike online recipes that overwhelm with sheer volume instead of trusted quality, this cook Vook combines the best of both worlds with trusted recipes and detailed video instruction.
Judith Klinger is the creator of Aroma Cucina, a food blog that believes home cooking is always in season. Aroma Cucina offers personal chef services and cooking classes in Umbria Italy and New York. This cookbook was developed by the Aroma Cucina family as a way of sharing the belief that eating dinner together is one of the happiest and healthiest things one can do.
Judith is a graduate of the NY Restaurant School, and has earned a Masters Certificate from Ital.Cook (a Slow Food school located in Jesi, Italy) and lives in the medieval village of Montone, Italy and in New York City. In 2010, she was the recipient of the prestigious Special Recognition Award from the Association of Culinary Professionals.
Curtis Albucher, filmmaker for this project, works as an independent video producer and cinematographer on numerous sport, music and lifestyle projects. Jeff Albucher served as editor and consultant in all phases of the project.
###