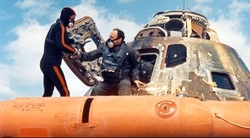 The Institute of Noetic Sciences (IONS) is the nonprofit organization Dr. Mitchell founded as a result of his experience on the Apollo 14 lunar mission, January 31, 1971.
Petaluma, CA (PRWEB) January 29, 2011
On January 31, 1971, Edgar Mitchell joined Commanders Alan B. Shepard and Stuart A. Roosa on an Apollo lunar mission that captured the imagination and hopes of people from all over the world in a collective leap towards global interconnectedness. On the heels of the failed Apollo 13 mission, the world set its collective intention on the heroes' wellbeing.
On the 40th anniversary of the Apollo 14 lunar launch this month, global interconnectedness continues to redraw the map of modern civilization. People from all nations continue to redefine their sense of place and purpose within it. But the essential skills required to successfully navigate life in an increasingly global society come from more than just what we know about ourselves and our place in the world. It matters more how we arrive at that knowledge, according to research at the Institute of Noetic Sciences (IONS), the nonprofit organization Dr. Mitchell founded as a result of his experiences on his lunar mission.
The development of this awareness is defined as worldview literacy, an emerging concept in education originally developed out of IONS consciousness research that explores individual and collective transformation. It is this kind of transformational process that Dr. Mitchell hoped would lead to improvements in global social consciousness and the kind for which he is celebrated today. His conviction to join consciousness research with worldwide influences that shape the human condition is reflected in the three research programs at IONS: Worldview Transformation, Consciousness and Healing, and Extended Human Capacities.
40 Years Ago Today
Dr. Mitchell emerged from the lunar capsule on January 31, 1971, with a story of transformation. Hours earlier, he piloted the lunar module that propelled the astronauts homeward. As he viewed the heavens from the capsule's only window seat, he experienced an epiphany: He later described a sudden inner knowing that the molecules of his body were the same as the molecules of everything around him, from the bodies of his fellow astronauts to the celestial bodies all around them. These molecules make up a harmonious and whole living system in "a universe of consciousness," he expressed.
Trained as an engineer and scientist, Captain Mitchell was most comfortable in the world of rationality and physical precision. Yet the understanding that came to him as he journeyed back from space felt just as trustworthy—it represented another way of knowing. And it radically altered his worldview: Despite science's superb technological achievements, he realized that we had barely begun to probe the deepest mystery of the universe—the fact of consciousness itself. He became convinced that the uncharted territory of the human mind was the next frontier to explore, and that it contained possibilities we had hardly begun to imagine. Within two years of his expedition, Dr. Mitchell founded the Institute of Noetic Sciences. Today, IONS' worldview transformation research program has generated The Worldview Literacy™ program, along with other tools, technologies, and techniques to support individual and collective transformation.
Today, Dr. Mitchell serves on the board of directors of the institute. He continues to be active at IONS' events, including lectures and conferences. He will be a keynote speaker at IONS 2011 International Conference, Noetic 2.0: Tools and Technologies for a World Transforming, July 20 – 24th in San Francisco. Dr. Mitchell is the author of "The Way of the Explorer" and "Psychic Explorations." Thanks to his lifetime commitment to consciousness research and the kind of conviction from which heroes are made, the Institute of Noetic Sciences in two years will celebrate its 40th anniversary as well.
Supporting Edgar Mitchell's Dream
The consciousness research and education programs at the Institute of Noetic Sciences are funded by members and philanthropists who want to shape a world in which mind, consciousness, wisdom, and spirit are joined with physical existence in the full human experience. To donate or to become a member, visit Noetic.Org - http://bit.ly/92mM48.
Other Helpful Links:
Worldview Literacy, a pilot program (video)
Worldview Literacy, a case study
NASA links
# # #