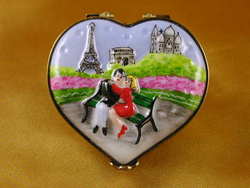 Limoges Boxes are used as engagement ring boxes, to send love poems, and other special trinkets boxes between lovers and friends.
Tampa, FL (PRWEB) January 30, 2011
Royalties all over the world have appreciated Limoges porcelain boxes as a real treasure and become avid Limoges collectors. Limoges porcelain hinged boxes were originally used as engagement ring boxes, snuff boxes, and to send love poems and other special trinkets boxes between lovers and friends.
Limoges porcelain boxes are entirely made & decorated by hand in the heart of the city of Limoges France. Limoges boxes are symbol of love, and make a fabulous gift to celebrate such as a birthday gift, an engagement ring box, as wedding or bridal gifts, as an anniversary gift, as a fantastic Christmas gift idea and Hanukkah gift, or any other special gift giving occasion or event. You can see these authentic Limoges box figurine collection at Limoges Boutique Boxes.
Limoges Boutique (http://www.LimogesBoutique.com) has Limoges box porcelain figurines in all kinds of shapes such as cats, dogs, frogs, turtles, teddy bears, Halloween, Thanksgiving, bears, butterflies, pigs, rabbits, mice, elephants, cows, horses, owls, tropical fish, Zodiac, art, music, Native Americans, books, western, gambling, games, wine, champagne, boats, cars, motorcycles, airplanes, hot air balloons, vegetables, fruits, caviar, food, birthday, holiday, baby strollers, baby prams, angels, flowers, garden, eggs, Eiffel towers, London buses, Italy gondola, patriotic themes, nativity, Christmas trees, nutcrackers, Santa Claus, shoes, hats, purses, shopping bags, and anything else you can imagine on Limoges box (http://www.LimogesDirect.net). Perfect Limoges gift, French Limoges (http://www.PerfectLimoges.com) figurines.
Limoges Boutique (http://www.LimogesBoutique.com) also offers authentic limited edition Limoges porcelain ring boxes and China Limoges dinnerware. Our Limoges pieces are entirely hand-painted and made by the finest factories in Limoge, France.
Only authentic Limoges boxes are initialed with the mark of the maker sign peint main Limoges, France and numbered limited edition. Limoges Boutique only offers Limoges from reputable companies such as Artoria, GR, PPA, Chamart and Rochard. These Limoges boxes come wrapped in silk paper, placed in a gift box, and come with a certificate of authenticity. This way you will always be able to determine between the faux and genuine pieces. When the limited edition Limoges boxes line is completed the Limoges mold is destroyed forever, and the retired piece's value will increase. Please visit our Limoges Porcelain Figurines collection to see their magnificent collection of authentic Limoges boxes. Many of the older lines of Limoges boxes currently on the site are discounted up to 30% off your purchase.
# # #