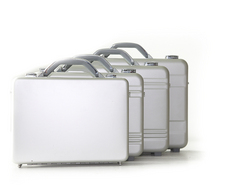 Mezzi has been praised with combining the practical uses of aluminum laptop cases with an aesthetically-pleasing appearance
Seattle, WA (PRWEB) January 31, 2011
Mezzi, the renowned manufacturer of aluminum laptop cases, has celebrated an exceptional start to the new year, with plenty to celebrate. The company was recently featured in an episode of Extreme Makeover: Home Edition, where their molded silver 17.5-inch laptop case was given media exposure as a stylish and sophisticated product. The briefcase, which is part of the Royal Collection, features a contemporary chrome handle and an aluminum finish that is representative of modern design.
Mezzi has been praised with combining the practical uses of aluminum laptop cases with an aesthetically-pleasing appearance. For example, the products within the Royal Collection include a purple velvet lining that not only keeps the cases secure, preventing scratches, but sets the right impression for business professionals who may take their laptops to accompany them at an important meeting. The renowned company, which also produces make up cases and laptop carrying cases made out of wood, gold chrome and silver chrome, has additionally enjoyed coverage on programs such as Deal or No Deal and Chuck, not to mention films such as 13 and Mission Impossible III, where Mezzi's wooden briefcases have been demonstrated as safe and secure carry cases with a dual keypad combination lock.
The company is also interacting with their consumers in a way that is innovative and different when compared to other forms of public relations. For example, Mezzi recently held a competition that invited consumers to show how they use the aluminum carrying cases that can be purchased on the company's online store – showcasing the ingenuity of how the luxurious products can be used. Examples posted on the Facebook website included a cat that decided to curl up inside a case for a nap, a household that used an aluminum case as a coffee table in the living room, and a company that used a Mezzi case to show off surgical utensils as a part of their portfolio. All of the successful entries were rewarded for the privilege of taking part in this social media campaign – and enjoyed $200 of credit to use in purchasing further Mezzi cases to be creative with.
Aside from the good looks and versatility of these cases, Mezzi has also enjoyed a surge in the sale of their aluminum laptop case models because of how it gives consumers peace of mind when on business visits and vacations. Laptops can include sensitive financial information and data that we use in our professional lives that could be used dangerously when placed into the wrong hands. Security has become a prevalent issue for computer users, not least because of the vast levels of identity fraud – and because of how not all laptop owners back up as frequently as they should.
Also, in the digital age, our pockets can be almost brimming with different forms of technology such as our mobile phones, iPods and digital cameras. Not only can it be uncomfortable to carry these products around with us on our person, but the risk of pick-pocketing or the insecurity of handbags can mean the music, photographs and texts we cherish can be placed at risk. The bespoke pouches within Mezzi aluminum cases empower users with the ability to comfortably store a variety of everyday essentials safely, and not just the laptop we take with us everywhere we go.
Mezzi have also worked to ensure that the aluminum laptop cases available on the market are not as heavy as many purchasers would expect. The whole point of having a case is to improve portability instead of restricting the freedom and productive potential of consumers – and this is why many products available from the online store are lightweight, compact, and resistant from the harsh weather conditions many of us face on the way to work.
The company has now been running for more than 15 years, establishing itself as a retailer of high-quality yet affordable laptop briefcases that come in a variety of finishes – empowering consumers who want different appearances for their items. By protecting goods very carefully, insurance premiums can come tumbling down – because the likelihood of these policies being used to claim against repairs for a laptop will decrease. For consumers that couldn't be without their laptop, Mezzi offer solutions that will prove to be a worthwhile investment.
# # #