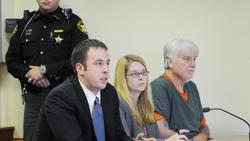 We are a full-service law firm able to handle any problem, or situation, unique to our clients.
Cleveland, OH (PRWEB) January 30, 2011
Criminal defense attorneys from Patituce & Associates successfully obtained not-guilty verdicts in cases ranging from Domestic Violence to Attempted Murder.
Joseph C. Patituce, an aggressive criminal defense attorney, represented Darryl Forest before a jury in Rocky River, Ohio. The case was captioned Rocky River v. Darryl Forest, case number 10 CRB 0695, and it was heard in Rocky River Municipal Court before the Honorable Fitzsimmons. Mr. Forest was charged with Domestic Violence and faced considerable jail time and harm to his reputation. Patituce successfully attacked the credibility of all of the State's witnesses, and after several days of trial the jury returned a verdict of not-guilty in less than one hour of deliberation.
Joseph C. Patituce, and Jaclyn M. Butler, represented Brandon Betliskey before a jury in Cleveland, Ohio. The case was captioned State of Ohio v. Brandon Betliskey, case number CR 10-540093, and it was heard in the Cuyahoga County Court of Common Pleas before the Honorable Astrab. Mr. Betliskey was facing a possible prison sentence of twenty-six (26) years in prison. The State of Ohio offered two plea options: one of three to five years, the second of two to eight years. Mr. Betliskey declined their offer and proceeded to trial. Patituce and Butler attacked the evidence offered by the State of Ohio, and several State witnesses even admitted that Betliskey was acting in self-defense. The Jury, after seven days of trial and over a dozen witnesses, returned a verdict of not guilty to all charges after just an hour and a half of deliberations.
Patituce & Associates, LLC, has established a reputation for aggressively representing clients in all types of criminal cases.
Patituce & Associates, LLC, has proudly handled cases for its clients ranging from theft, fraud, drug possession, murder, juvenile crimes], sex crimes, and internet sex crimes.
Patituce & Associates, also proudly announces the addition of Jaclyn M. Butler to its team of criminal defense attorneys, divorce lawyers, and personal injury lawyers. Ms. Butler graduated with honors from the Cleveland-Marshall College of Law and has immediately begun handling all types of cases for our clients. Ms. Butler is skilled as a dui defense lawyer, as a divorce lawyer, and a criminal defense attorney. Ms. Butler is a perfect fit at Patituce & Associates as they expand their practice areas and locations offering a new level of service to anyone in need of help.
Patituce said, about the expansion of his firm, "We pride ourselves on being able to address any issue that our client's face, we do not think it is fair that clients need to go to more than one attorney for a set of problems. We feel that we have the right people in place to help with any problem our clients might face."
Patituce also said, "We put our clients first. I refuse to charge clients to read emails, to obtain a quick status update, to obtain a free evaluation of their case. We put the client first, and in the center, of our practice. I think that makes us far different than other firms out there."
Asked about defending people charged with serious, and sometimes horrible, crimes Patituce says, "Many of my clients are guilty, or have done something horrible, however, that does not mean the yare not entitled to an attorney that would fight for them. I represent all of my clients the same way I would if they were family. Some of my clients are truly innocent and the only way for them to have their day in court is to be represented by a criminal defense attorney."
Patituce & Associates, LLC, has represented clients all across the State of Ohio from Sandusky, Lorain, Elyria, North Ridgeville, Strongsville, North Olmsted, Parma, Cleveland, Medina, Ravenna, Chardon, Painesville, to Akron. Patituce & Associates, LLC, recently expanded its office located at 26777 Lorain Road, Suite 503, North Olmsted, Ohio in order to accomodate the addition of new staff members. They can be reached by phone at (440) 471-7784.
# # #