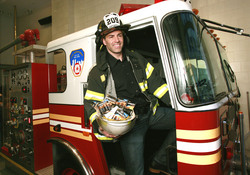 When it comes to the most critical situations, important organizations – from firefighters to doctors, to the military – trust Duracell batteries to power the devices they rely on
Bethel, CT (PRWEB) January 31, 2011
Of the more than one million active firefighters in the U.S., 73 percent serve entirely as volunteers. Duracell, in partnership with the National Volunteer Fire Council (NVFC), today kicked-off a national battery donation program, Power Those Who Protect Us, to help equip these volunteer firefighters with supplies they need to help power their everyday tools and life-saving devices, such as flashlights, breathing apparatus and emergency personnel locators.
Sixty-four percent of volunteer firefighters surveyed report that their department is not sufficiently funded to sustain all areas of operations. In fact, 86 percent of volunteer firefighters report that they or their families invest their own money in purchasing supplies and/or equipment for their department, with most of them (73 percent) investing up to $500 per year. Duracell and the NVFC created the Power Those Who Protect Us program to raise awareness for the needs of these volunteers who selflessly donate their personal time and income to protect our communities. With the help of consumers, the program goal is to provide 10 million batteries to the 23,000 volunteer fire departments in the U.S. in order to help power devices and life-saving equipment used to keep volunteer firefighters and their communities safe.
"When it comes to the most critical situations, important organizations – from firefighters to doctors, to the military – trust Duracell batteries to power the devices they rely on," said Volker Kuhn, General Manager, North America for Duracell. "Today, we're inviting communities across the country to join us in helping power those who protect us: our local volunteer firefighters. With state budgets continuing to tighten, we've heard from some of these men and women that they could use some assistance with resources, like batteries, and we want to help."
Consumers can participate in the Power Those Who Protect Us program by purchasing specially marked Duracell CopperTop battery packs at retailers nationwide beginning today. For every specially marked Duracell CopperTop 10- and 20-pack of AA or AAA batteries purchased, Duracell will donate one or two batteries respectively. Every department will receive a sizable battery donation, in some cases the equivalent of a year's supply depending on department size, and consumers can help increase the donation to their local volunteer departments even further by directing their battery donation by zip code at http://www.duracell.com/protect or by visiting facebook.com/duracell and clicking on the program tab.
"Volunteer firefighters use batteries for a wide variety of crucial devices, such as personal alert systems, personnel location equipment, communication devices, and flashlights," said Philip Stittleburg, Chairman, NVFC. "Funds are tight, so offsetting annual battery purchases provides local volunteer fire departments with genuine value, enabling them to reallocate resources to support the other areas of operation."
The majority of volunteer firefighters in the U.S. balance careers where they work 40 hours a week or more and their families, many of them with children, while the majority committing up to 20 extra hours a week volunteering at their fire station. Many work into the early hours responding to the majority of emergency calls that come in between 6 p.m. and midnight. Through the Power Those Who Protect Us Program, Duracell and the NVFC want to recognize the hard work these local heroes do everyday, encourage communities to get involved in giving back to them and provide a meaningful supply of batteries to help ease everyday operational costs.
Campaign spokesperson, retired NFL quarterback and two-time NFL MVP, Kurt Warner, is championing the Power Those Who Protect Us program out of gratitude and admiration for the men and women who serve as volunteer firefighters. Having grown up in Iowa next to his local fire station, as a child Warner saw firsthand the commitment, determination and courage firefighters demonstrated on a daily basis. During the campaign, Warner will serve at his local Phoenix-area volunteer fire department, the Wickenburg Fire Department, for a day doing firefighter training such as live fire and rescue exercises and testing equipment. During a media day in New York City on January 31, Warner will share his experiences on behalf of volunteer firefighters across the country in hopes to raise awareness for the need to support these unsung heroes.
For more information or to get involved in Duracell's Power Those Who Protect Us battery donation program, visit http://www.duracell.com/protect and/or Facebook.com/duracell.
About the Survey
This national survey was conducted online by IPSOS Public Affairs on January 4-11, 2011 using a national sample of 523 volunteer firefighters members of the National Volunteer Fire Council. For more information please visit: http://www.ipsos-na.com/news-polls/pressrelease.aspx?id=5104.
About Duracell
Part of the Procter & Gamble Company, Duracell has been powering people around the world for more than 40 years. Our products serve as the heart of devices that keep people connected, protect their families, entertain them and simplify their increasingly mobile lifestyles. As the world's leading manufacturer of high-performance alkaline batteries, Duracell also innovates in lighting, renewable power and wireless charging technologies to help consumers live life without limits. Visit http://www.duracell.com for more information, follow us on Twitter.com/Duracell_Power, and like us on Facebook.com/Duracell.
About the National Volunteer Fire Council
The National Volunteer Fire Council (NVFC) is the leading nonprofit membership association representing the interests of the volunteer fire, EMS , and rescue services. Organized in 1976, the NVFC serves as the voice of the volunteer fire and emergency services in the national arena and provides invaluable tools, resources, programs, and advocacy for first responders across the nation. Each state firefighter's association elects a representative to the NVFC Board of Directors.
About Procter & Gamble
Four billion times a day, P&G brands touch the lives of people around the world. The company has one of the strongest portfolios of trusted, quality, leadership brands, including Pampers®, Tide®, Ariel®, Always®, Whisper®, Pantene®, Mach3®, Bounty®, Dawn®, Gain®, Pringles®, Charmin®, Downy®, Lenor®, Iams®, Crest®, Oral-B®, Duracell®, Olay®, Head & Shoulders®, Wella®, Gillette®, Braun® and Fusion®.
The P&G community includes approximately 127,000 employees working in about 80 countries worldwide. Please visit http://www.pg.com for the latest news and in-depth information about P&G and its brands.
###