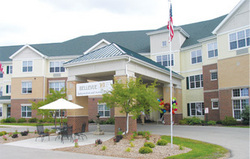 "CareConnect's free, system-wide technology upgrade, its customized services, and its lower rates all give us a competitive advantage in our market. Ari Weinberger, President, CRL Senior Living Communities
Liberty Township, OH (PRWEB) February 2, 2011
Ohio-based ESCO Technologies LLC, developer of CareConnect™ the nation's leading managed telecommunications service for senior housing communities, confirms its recent partnership with CRL Senior Living Communities. Starting In 2011, CareConnect™ will install and service advanced telecommunications and life-safety systems at six CRL facilities, with the remaining communities to be evaluated by 2012. Neenah, Wisconsin-based CRL operates 17 locations across Wisconsin and Illinois.
Keri Shinault, Northern Regional Sales Manager for CareConnect™ by Esco, described how the partnership came together, "After extensive research on ESCO Technologies and its CareConnect™ Program, CRL executives concluded that CareConnect™ was an excellent fit for their needs and goals." Starting in spring, 2011, ESCO will upgrade six CRL communities with state-of-the-art nurse call, communications and entertainment equipment which ESCO will install and maintain at no cost to any of the six communities. In addition to receiving free next-generation technology, each community will further benefit from significant lower monthly costs on their residential phone, television and Internet services, as compared to the rates they had paid in the past.
Jerry Grove, President of ESCO beamed, "we're investing over $1.7 million in telecommunications equipment and labor across the first six of CRL's locations, and will save them over $400,000 in ongoing maintenance and replacement costs over the life of the agreement. Partnering with ESCO to implement CareConnect™ will also help CRL to generate hundreds of thousands of dollars in profit sharing and revenue streams over the life of our partnership, and will bring enhanced, senior-friendly telephone, television, and Internet services to their residents at discounted monthly rates. It's a great partnership because all stakeholders benefit."
"The decision to go with CareConnect™ was an easy one to make," explains Ari Weinberger, President of CRL. "Their free system-wide technology upgrade, their enhanced and customized services, and their lower rates all give us a competitive advantage in our market. Our Community Directors also really appreciate that their staff and residents can make one simple call to CareConnect™ for any inquiry, 24 hours a day, seven days a week. Formerly, administrative staff at our communities had to manage up to a half dozen or more suppliers to make an inquiry or service request, CareConnect™ saves our staff and residents so much time and hassle and extends our professionalism into this area as well. CareConnect™ services are a vast improvement for us yet cost far less – we're extremely pleased."
About CRL Senior Living
CRL specializes in designing and managing state-of-the-art senior care residences that deliver the highest standard of care in a specialty-designed therapeutic environment. The company meets the needs of seniors with communities specializing in independent living, assisted living, and Alzheimer's memory care. Through CRL's therapeutic Life Enrichment Program, our Stimulation Pillars create an environment where our residents can thrive – not just survive. Our innovative clinical programs allow CRL residents to go beyond aging in place to age with dignity, respect, and grace.
More information on CRL can be found on their website at http://www.crlcares.com.
About CareConnect by ESCO Technologies LLC
CareConnect™ by ESCO Technologies is the nation's only single-source provider of a comprehensive suite of communications and entertainment solutions to the Senior Housing Industry. ESCO's revolutionary CareConnect™ Managed Services Program provides Emergency Call Systems, business & residential telephone systems, and Internet and satellite television services]services to assisted, independent and congregate care living facilities.
From its Customer Service Representatives, Account & Project Managers to its Engineers and Technicians, CareConnect™ focuses exclusively on supporting seniors and senior housing communities. For communities that qualify, CareConnect™ installs and maintains all equipment at no cost to the community while reducing business and resident utility expenses by 30-40%.
For more information, visit http://www.CareConnectbyESCO.com, and call (800) 281-4816 to find out if your community qualifies for a FREE CareConnect™ system-wide telecommunications upgrade.
# # #