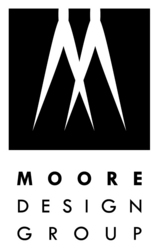 Dallas, TX (PRWEB) February 28, 2011
Dallas-Fort Worth, TX (PRWEB) February 28, 2011 -- During a period of economic instability and uncertainty for the majority of architecture and interior design firms around the U.S., Moore Design Group experienced one of its most successful years ever.
In October Moore Design Group won Best Interior Merchandising at a Multifamily Community in the 2010 Pillars of the Industry Awards. The firm was honored for ICON in the Gulch, a project developed by Bristol Development Group and Marketstreet Equities Co. in Nashville, Tennessee. The Pillars awards program was introduced by the National Association of Home Builders (NAHB.org) in 1991. It recognizes excellence in apartment and condominium development, design, marketing and management, and is considered the industry's most prestigious honor. Moore Design Group has been honored as Pillars award finalists and winners in recent years.
The firm's superior work on ICON in the Gulch proved beneficial earlier in 2010 as well. In August ICON in the Gulch garnered Moore Design Group a 2010 Legacy of Design Merit Award. Legacy of Design is the annual competition recognizing the finest interior design achievements within the Texas Chapter of the American Society of Interior Designers (ASID.org), the largest of the organization's 48 chapters. This win adds to several previous Legacy of Design awards the firm has received for excellence in both the commercial and residential sectors.
In July Multi-Housing News magazine (MHNews), the industry's leading source of information and analysis, capitalized on Moore Design Group's expertise when they published an article titled "Get Your 'A' Game On" by founding principal, Stephanie Moore, in which she shares advice on how properties can remain competitive and profitable by paying attention to cosmetic improvements and lifestyle trends. In a December article on sustainability, MHNews highlighted The Voyager at the Space Center, one of the firm's recent projects in Nassau Bay, Texas, with developer Martin Fein Interests, Ltd., and presented a project image on the issue's cover. The reporting complements the influential trade magazine's recognition of the firm in July 2009 when they wrote a feature on ICON in the Gulch, making one of many striking project photographs the magazine's front cover.
Building upon the momentum generated in 2010, which also included Stephanie Moore being named as one of the Best Interior Designers in Dallas by D Home magazine, Moore Design Group's first months of 2011 have been extremely active. After completing the 40,000-sf corporate headquarters for Supreme Lending in Addison, Texas, founder Scott Everett secured the firm to complete his 8,000-sf Dallas residence.
In addition to the private residential project, Moore Design Group is working on seven multifamily developments: Museum Place with TLC Urban in Fort Worth; The Encore, a Zale Corson Group project in Plano, Texas; The Lancaster in Fort Worth and Zang Triangle in the Oak Cliff area of Dallas, both for Lang Partners, LLC; Encore at Alsbury with Encore Multi-Family, LLC, in Dallas; and Ridgegate II in Denver, Colorado, and Verona at the Reserve in Houston, two properties with Martin Fein Interests, Ltd.
About Moore Design Group
Established in 1991, Dallas-based Moore Design Group has proven itself to be one of the leading designers of multifamily living communities in North America. Additional information about the firm – including a list of projects, awards, media coverage, and team bios – is available at http://www.mooredesigngroup.net.
# # #