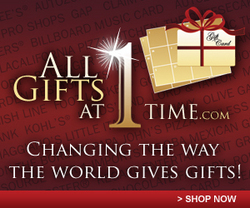 "...we are changing the way the world gives gifts."
Vancouver, WA (PRWEB) February 2, 2011
A new way of giving gifts has arrived. AllGiftsAt1Time.com provides a convenient and accessible solution for gift giving that can be done for the entire year from the comfort of a computer or mobile device. AllGiftsAt1Time.com presents an easy solution to remembering special events for loved ones or co-workers, while deciding which gift card to pick from their extensive list will be the hardest part of all.
Presenting a personalized greeting with each individual gift card given, AllGiftsAt1Time.com completes every step in the gift giving process including the promise to deliver every gift on or before the day desired by the customer. The stress of last minute shopping, picking out the perfect gift, keeping track of birthdays and finding the time to go to the post office are problems that are easily solved with the help of AllGiftsAt1Time.com. This easy-to-use website, where gift-giving for the year can be done on one page, offers the perfect gift card options and will save time for corporate managers, military personnel, grandparents or any gift-giving friend or family.
"With the growth of gift card purchasing year round, we offer the expediency our customers are looking for to do all of their shopping at home," said Aaron Christopherson, Director of Marketing at AllGiftsAt1Time.com. "By offering a continuously growing list of merchants and the personalized touch that removes the 'impersonal' stigma of gift card giving, we are changing the way the world gives gifts."
As the most requested gift of 2009 and with at least 95% of adults having given or received a gift card**, online gift card sales are expected to grow at a compound annual growth rate of 29% over the next several years, hitting $5.86 billion in 2014, says research and advisory firm Javelin Strategy & Research. AllGiftsAt1Time.com is meeting the consumer in their most convenient place, on their computer, and becoming their gift-giving solution. Also, by allowing the customer to develop a permanent editable gift/recipient list, there will be no need to try to remember the dates of every family members' birthday or what was given to the the previous year.
"For people who want to choose their own clothes, electronics or other items we offer the gift-giver an escape from the anxiety of picking out the perfect gift or finding the time to send it out," states Dale Terry, founder of AllGiftsAt1Time.com. "Recipients want to choose the gift they really want and our customers can purchase all their gifts at one time for an entire year and relax. We meet both needs simultaneously."
###