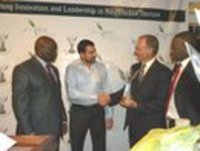 (PRWEB) February 2, 2011
The winners of the Eco-warrior award 2010 have just been announced. Launched by Ecotourism Kenya in 2005, the Eco Warrior Awards honour creativity within the tourism industry in Kenya and are meant to inspire innovative actions to protect the environment and integrate the local people into the business of tourism. The 'Most Responsible Tour Operator' category was sponsored by the KWS (Kenya Wildlife Service) and the winner is... Gamewatchers Safaris!
The citation reads: Gamewatchers Safaris Ltd. presented clear written policies on their engagement in all areas of sustainable tourism including energy, water, waste and land management, conservation of natural resources and promotion of community integration and partnership. Gamewatchers partner with booking agents to contribute a portion of every booking as a donation to a school they have supported in Kibera which has doubled its enrolment from 70 to 140 students. Gamewatchers Safari is the the exclusive booking agent and marketing arm of Porini Camps which as a result of Gamewatchers Safaris business has been able to conserve over 57,000 acres of wilderness and employ over 120 community members.
If you are interested in booking a Kenya Safari holiday visit Gamewatchers now.
# # #