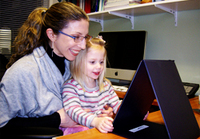 A language rich environment and intervention, if needed, are important factors in the development of speech and language skills. Therapy can empower and support the families.
New York, NY (PRWEB) February 22, 2011
Open Lines Speech and Communication PLLC is offering free screenings for New York City's children. According to the National Institutes of Health, "The prevalence of speech sound disorder in young children is 8 to 9 percent." This particular percentage does not account for the number of children with language or literacy problems. Evidence-based research has shown that early intervention minimizes the need for language services later in life. This not only benefits the child; it also cuts costs further down the road when the child may require more intensive speech therapy or other support.
Dr. Jessica Galgano, founder of Open Lines PLLC, has been quoted stating, "A language rich environment and intervention, if needed, are important factors in the development of speech and language skills. Therapy can empower and support the families." Open Lines has been providing speech therapy services at Bank Street School for Children on Manhattan's Upper West Side since 2005. In 2009 Open Lines opened an office in Chelsea, where speech pathology services are provided to children and adults. Dr. Galgano founded the company in order to provide an integrated approach to treatment that addresses the needs of all those involved in a supportive, caring atmosphere. At Open Lines, a certified doctor of speech-language pathology always oversees the diagnosis and treatment of every client to maximize each person's success.
Each screening lasts about 20 minutes and identifies whether a child is developmentally appropriate in terms of speech, language or feeding skills. Testing will be conducted by licensed speech-language pathologists. Call (646) 375-2390 to schedule an appointment or for more information.
Open Lines PLLC is a premiere practice in rehabilitation services, specializing in speech, physical, and occupational therapies. Open Lines is unique in its approach to open the lines of communication between and among the immediate and extended members of the Open Lines "family."
The practice's goal is to help each person realize his or her full potential as an active and confident participant in the home, community, classroom, or workplace. Open Lines PLLC's clinicians are fully committed to making an impact that extends beyond the clinical environment, opening the lines of communication that will allow each person to achieve the personal, academic, and professional success that he or she will carry throughout his or her life. To accomplish this, Open Lines implements, facilitates, and supports a collaborative approach that includes all members of a person's social circle in every aspect of a person's treatment program. The practice strongly adheres to evidence-based practice and is always striving to be innovative.
Open Lines PLLC believes that it is critical to individually tailor each treatment program/intervention to ensure that goals are met in as short a time frame as possible. From day one, the practice's clinicians focus on each client's progress toward independence so that he or she can successfully function without the regular intervention of a specialist. They recognize that in order to ensure the most successful programs possible, they must continually examine/assess program efficacy and efficiency and modify their approaches accordingly. They believe that constant communication and consultation between the therapists and the clients and families they serve is necessary to coordinate services so that the needs of the person are addressed as a whole.
Open Lines PLLC is located at 116 West 23rd Street, 5th floor, New York, NY 10011. For more information on speech and language pathology or the practice's speech therapy programs for children and adults, please visit http://www.OpenLinesCommunication.com.
###