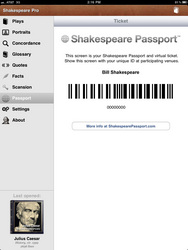 We'd been talking about a virtual ticket for Shakespeare performances and other events for some time
San Anselmo, CA (PRWEB) February 1, 2011
PlayShakespeare.com and the Shakespeare Birthplace Trust have recently partnered in order to create a new virtual ticket program, the Shakespeare Passport.
In cooperation with Readdle, PlayShakespeare.com produces the popular Shakespeare and Shakespeare Pro apps for iPhone, iPod and iPad, with more than 1.5 million downloads. The addition of the new Shakespeare Passport to the apps grants access to free admission or discounted rates at all participating venues.
"We'd been talking about a virtual ticket for Shakespeare performances and other events for some time," said Ron Severdia, founder of PlayShakespeare.com. "When the Shakespeare Birthplace Trust came to us with the idea, we knew this was the right time to do it."
Any venue can apply to join Shakespeare Passport and immediately gain access to the community of Shakespeare enthusiasts. Each venue determines what promotion they will offer through the app. The Shakespeare Birthplace Trust will offer a free entry with the purchase of any full price ticket to the five Shakespeare Houses in Stratford upon Avon.
"We are delighted to be working in partnership with PlayShakespeare.com and hope to welcome many Shakespeare lovers from around the globe to his Birthplace," Lynn Beddoe said. "We hope that many more venues will join the program and become part of the Shakespeare Passport."
About PlayShakespeare.com
Founded in 2005 by Ron Severdia, PlayShakespeare.com is the premiere free online resource for all things Shakespeare. PlayShakespeare.com provides free high-quality editions of the complete works. The organization is a member of the Shakespeare Association of America and the Electronic Frontier Foundation.
About Shakespeare Birthplace Trust
The Shakespeare Birthplace Trust is an independent charity which owns and cares for the five Shakespeare Houses, and strives to "Lead the world's enjoyment and understanding of Shakespeare's works, life and times."
Media Contact:
Ron Severdia
(415) 482-7686
Pr(at)playshakespeare(dot)com
###