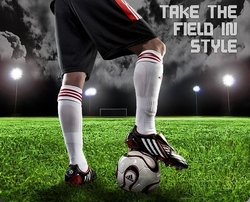 We feel that Lee brings invaluable experience to our leadership team, which will act as a catalyst for our continued growth.
Dallas, TX (PRWEB) February 9, 2011 –
SHOEBACCA.com is pleased to announce that Lee Harris has accepted the position of President, effective March 1, 2011.
"We couldn't be more excited about Lee coming on board," says Tim Siemers, Director of Marketing for SHOEBACCA.com. "We feel that Lee brings invaluable experience to our leadership team, which will act as a catalyst for our continued growth."
Lee has over 25 years of experience in the footwear industry. He began his career at Nordstrom, working his way up from Sales to Lead Footwear Buyer. Lee then spent 13 years with adidas America, where he worked as Closeout Sales Manager, GMM for the outlet division, and later as Strategic Sales Director, where he was responsible for over $160 million in sales.
"SHOEBACCA.com is rapidly becoming the premier shopping destination for savvy shoppers," says Lee. "I look forward to the opportunity to help SHOEBACCA.com expand its business even further."
About SHOEBACCA.com
SHOEBACCA.COM got its very humble beginnings when two community-minded brothers started selling used name-brand athletic shoes to underprivileged families at local neighborhood markets. Along with those early grass-roots efforts, they also shipped truckloads of shoes to areas all over the world, primarily to third-world countries where the need was greatest. This became the inspiration for SHOEBACCA.com, and helped set the tone for this new business and outreach program.
Officially formed in 2002, SHOEBACCA.com identified an opportunity to extend its reach by establishing itself as a reseller on eBay. After a number of successful years operating on eBay's platform, SHOEBACCA.com launched a full-scale retail website in the spring of 2008. Through word of mouth, SHOEBACCA.com quickly became a leader in the online footwear retail market, offering thousands of styles by many of the world's best shoe brands at competitive prices. Attention was immediately placed on growth through proper placement, innovative technologies, competitive shipping processes, and professional customer service.
"We have the latest in shoes, apparel, and accessories from household brands like adidas, Converse, Asics, Puma, Reebok, The North Face, Skechers, Keen, Sorel, and New Balance," adds Tim. "And you can easily find the perfect pair by using our custom filtration technology. Customers can shop and filter by gender, category, color, size, width, and brand. We make it easy to find what you are looking for with the least amount of effort."
SHOEBACCA.com offers free ground shipping, free return shipping, 110% price matching, and unparalleled customer service. Complete satisfaction is guaranteed with our exclusive no-risk shopping experience.
Customers can sign up for the SHOEBACCA.com newsletter to receive the latest news on brands and styles, as well as exclusive discounts. Follow SHOEBACCA.com on Facebook or Twitter to receive up-to-the-minute announcements.
SHOEBACCA.com is dedicated to helping the community locally and nationally by supporting various youth organizations and charities. SHOEBACCA.com has worked with Soles4Souls, American Cancer Society Relay for Life, Salvation Army, National MS Society, The Boys and Girls Clubs of America, and many other worthy organizations. In addition, SHOEBACCA.com assembled an amazing 80-rider volunteer cycling team that has participated in events like the Bike MS Bay to Bay Tour. The team was able to raise over $70,000 in total donations to help this cause, and continues to ride at various charity events across the country.
SHOEBACCA.com is a full-scale online retail footwear company dedicated to helping customers and their families lead active, healthy lifestyles. With thousands of styles from the world's most popular brands, it's easy to find your SOLE mate at SHOEBACCA.com.
Contact:
Tim Siemers
888-446-1788
###