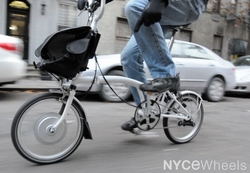 Pairing electric assist with one of the world's best folding bikes seemed only natural..
New York City (PRWEB) February 10, 2011
NYCeWheels, an industry leader in both folding bikes and electric bikes, has just released an electric version of the Brompton folding bike.
The Brompton electric bike, is the creation of Bert Cebular, electric bike specialist and founder of NYCeWheels. Cebular says, "Pairing a powerful electric hub-motor with one of the world's best folding bikes seemed only natural. We developed the Brompton electric bike in response to the demand for an electric folding bike portable enough to take anywhere."
The Brompton electric bike is part of NYCeWheels' continued effort to offer highly portable, well made, and reliable personal transportation solutions. Part of what makes the Brompton electric bike unique is how compact it can be folded. All the electrical components are integrated seamlessly into the original Brompton design, touted as the most compact in the world.
Though the electric Brompton folding bike is primarily offered as a ready to ride electric bicycle, NYCeWheels also builds custom electric kits which can be installed on any model Brompton. While electric kits for the Brompton folding bike have existed in Europe for several years, and Brompton itself is developing its own electric folding bike, the NYCeWheels electric kits take a different approach. Notably, more power and speed.
European designed kits have typically centered on pedelec activation (a motor triggered by the rotation of the pedals) and motor speeds around 15mph. The NYCeWheels electric Brompton folding bike kit, which is entirely throttle operated, has a more powerful motor and a higher capacity battery. This allows its riders to travel up to 20 miles on a charge at speeds up to 20 miles per hour. The kit also comes fully customizable with a variety of options to suit the customer's individual needs.
Brompton electric folding bike features:
Light weight - 20lbs lighter than the average electric bike
Compact - Folds smaller than any other electric bike
Electric powered - Energy efficient Lithium batteries
Handcrafted - Fully customizable
Contact NYCeWheels for more information or to order your Brompton electric bike. To see the bike in action watch NYCeWheels' Brompton electric bike video.
# # #