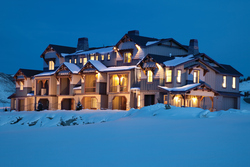 As a company we weren't content waiting out the housing and economic storm...we had to innovate. Building green and energy efficient homes has ended up being a win for us.
Park City, UT (PRWEB) February 15, 2011
The Park City real estate market is a competitive place. Add the housing slump and matters are further complicated. GCD, Inc. knew it needed an edge, so a decision was made. Instead of slashing prices like most builders, GCD opted for higher performance, smaller floor plans, and green building practices. These choices have allowed Park's Edge, GCD's newest townhome development, to succeed.
In 2010, Park's Edge sold more homes than any other, comparably priced, Park City builder. Additionally, in January 2011, the last two homes in the first phase sold on the same day. "Consumers are choosing Park's Edge for numerous reasons," says Mike Stewart, president of GCD, Inc., "while our square footages are smaller, the 4-sided architecture, high-quality finishes, green building practices and outstanding energy efficiency make the difference."
Park's Edge is Energy Star "Plus" rated. Furthermore, these high performance homes were third-party certified and carry a HERS (Home Energy Rating System) index of 62. A HERS index of 0 would indicate a home has net zero energy usage. Homes built from 2006 on are required to be built to a minimum HERS index of 100. Therefore, a Park's Edge home is 38% more energy efficient than a home with a HERS of 100 and substantially more efficient than homes built prior to 2006. This all translates to lower monthly utility bills.
According to Stewart, "the Park City seasons can dish out substantial temperature extremes. We construct a tighter building envelope by utilizing a BIB (Blown In Blanket) insulation system. We also seal and pressure test the duct work (which only runs through conditioned spaces) and install low-E, Jeld Wen, dual pane windows. These are just a few of the things we do to create homes that perform and live well."
With the completion of a 4,100 square foot clubhouse in February 2011 and releasing pricing on the second phase starting mid-February 2011, GCD's bet on green is paying off. At last count, there are over 70 individuals on the waiting list for pricing on the next phase.
"As a company we weren't content waiting out the housing and economic storm," says Stewart. "We had to innovate. Building green and energy efficient homes has ended up being a win for us. We are finding our buyers are forgoing other properties and are seeking out what is found at Park's Edge."
# # #