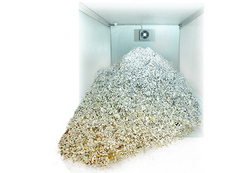 Gaithersburg, MD (PRWEB) February 15, 2011
The free shredding service is available between the hours of 8:30am and 3:00pm on Mondays through Fridays at their Gaithersburg, Maryland location.
Office Paper Systems has provided secure document shredding and recycling throughout the Washington DC Metro area for over 20 years. Their community shredding events have helped thousands of individuals protect their personal information throughout the area. Once documents have been destroyed the shredded material is baled and shipped directly to mills for recycling.
"The freesecureshredding.com platform allows us to reach our community with service specific messaging," said Product & Data Security Manager Chris Thompson. "By recycling our customers' shredded material we share their environmental concerns and locally support a global cause."
The recent acquisition of a hard drive shredder, capable of destroying Hard Drives, Backup Tapes and miscellaneous E-scrap including CD's and VHS Tapes completes their data destruction offerings and will be a welcome addition to their services. Although official pricing has yet to be released Thompson stated, "We are likely to accept 1 standard size box of e-scrap at no charge under the freesecureshredding.com service offering. This will certainly help those of us that are holding on to old hard drives and floppy disks."
No one is immune to the ever looming presence of identity theft but with services in place like this it gives us the chance to take extra steps to ensure we are not the next victims.
###