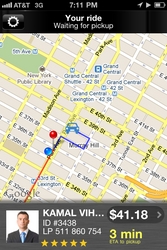 "This cutting-edge application combines mobile and GPS technology to provide the next evolution in transportation. Soon anyone with a smartphone will have a consistent, reliable way to order car service on the fly."
New York, NY (PRWEB) February 3, 2011
GroundLink just released new iPhone technology which allows booking of car service in just a few seconds from the GroundLink iPhone app or website. This revolutionary app will transform the way the city books and finds car service. New Yorkers will no longer need to call a car service company and wonder if their car is actually on its way because the GroundLink app will allow them to order cars for immediate pickup or future reservations and track their vehicle as it makes its way to their location in order to pick them up.
Users simply download the app (http://itunes.apple.com/us/app/groundlink/id412150887?mt=8), which then finds their location using the iPhone's GPS capabilities. The app then present users with a map showing the closest available cars. After confirming, the closest car is dispatched and appears on the map so it can be easily tracked as it heads to the pickup location. Customers can either put in their drop-off location or simply tell the driver where they want to go after pickup.
Unlike other companies entering this space in recent months, the GroundLink app allows users to see the final price of their ride when they book rather than having to wait to be surprised when they finally reach their destination. In addition, the app will let users booking at least an hour in advance book anywhere in the world directly through the app.
GroundLink currently works with a number of different companies in New York, including LimoRes and Velocity, in order to provide the best possible coverage. At present, there are more than 500 vehicles in the Tri-State area available for service through the application. GroundLink Is looking to partner with other operators across the world to enable thousands of vehicles with the same technology.
"This cutting-edge technology that combines mobile and GPS technology is the next evolution in transportation. Soon anyone with a smartphone will have a consistent, reliable way to order car service on the fly," according to Alex Mashinsky, CEO of GroundLink.
In the next few months GroundLink will continue to roll out this service to other markets in the US and the world. Over 45,000 affiliates in 15,000 cities are already part of GroundLink's phone and web network and the iPhone application is the next step in completing the company's cutting edge technology to provide all forms of transportation between any two points on the globe.
About GroundLink
GroundLink is a travel technology company that aggregates, manages and executes limousine, taxi, shuttle, car-rental & public transportation services worldwide. Through retail websites like Limores Car & Limo Service, mobile apps, API's (http://www.groundlink.com/api) and a proprietary marketplace, GroundLink provides individuals, corporations and partners with a single booking and reservation system for all forms of transportation, worldwide under one-account. With over 45,000 affiliates, millions of transactions per year, and partnerships that include Royal Caribbean, JetBlue, Continental, KAYAK and others, GroundLink is the only true marketplace to seamlessly connect supply and demand for the ground travel industry worldwide.
###