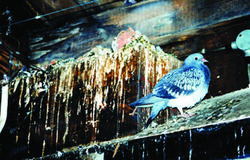 "Bird control is never a one-fit solution. It is a multi-tactic approach involving a variety of deterrents based on the type of infestation and structure of the property. Bird control can be difficult and frustrating, but it is a winnable war."
Neptune, NJ (PRWEB) February 11, 2011
About 400 species of birds consider New Jersey their home. Unfortunately for business owners, in addition to the many breathtaking birds in the Garden State, New Jersey also has a sizable "nuisance" bird population. According to Bird Solutions By Cowleys, the only true, effective long-term solution to control the damages from nuisance birds is an intelligent, multi-tactic approach designed and implemented for each particular infestation. Now, the gold standard for bird control solutions is behavior modification though applying a variety of deterrents.
According to the Rutgers Agricultural Extension, there are three nuisance birds: pigeons (Columba livia), house sparrows (Passer domesticus), and starlings (Sternus vulgaris). All of these species are non-native; they were introduced into the United States from Europe and have thrived with a virtually unlimited food supply and no natural predators. Said Drew Cowley of Cowleys Bird Solutions, "We have seen large infestations of all these pest birds throughout New Jersey, taking over and using the inside or outside of buildings and warehouses as roosting, loafing and nesting sites. All of these birds have caused problems, but in terms of the amount of damage caused by waste droppings and the entrenched level of infestation, pigeons rule the roost, no pun intended. Pigeons have become the avian equivalent of city rodents that have been called every name in the book – from rats with wings and sky rate to gutter birds and flying ashtrays."
Continued Cowley, "These disparaging names may seem harsh, but from the perspective of a bird control professional who has been called upon to handle numerous challenging bird infestation problems, these birds are more than an annoyance for property owners. The health hazards of bird droppings alone are a serious problem. Dried droppings release microscopic infectious spores carrying bacteria, lethal fungi, and parasites that can be easily inhaled. Droppings also transfer viral meningitis and encephalitis. There is a long list of difficult-to-pronounce bird-transmitted fungal diseases such as histoplasmosis, toxoplasmosis, and aspergillosis. These potentially fatal diseases are expensive to diagnose and treat and have no cure, only lifetime treatment of symptoms. Given the toxicity of bird droppings, never attempt to clean it yourself or have your employees do it unless you have the proper protective gear and have been trained in hazmat procedures. The OSHA violations and fines that a company would face subjecting an employee to this type of toxic waste would be a nightmare. And if the employee actually contracts one of these serious diseases, the legal liability is significant. Removal of bird waste is not the place to cut corners. Hire a bird control professional with the right training and equipment."
.
Added Cowley, "The potential health hazards to your employees should be enough incentive to remove these birds from your property or warehouse. But they also cause extensive damage to structures by drilling holes or clogging ventilation systems and machinery with their nests. Nesting creates fire hazards. They cause water backup in rain gutters that can lead to dangerous and costly structural damage. Waste droppings are acidic enough to dissolve paint, stain wood, erode metal, and cause concrete and stonework to crumble. Bird problems don't just disappear. Once these birds get settled in, they are there for the long-term. The only solution is to contact an experienced bird control professional who can evaluate the problem and implement cost-effective bird control measures that work."
Asked what customers expected from a bird control service, Cowley replied, "Unfortunately, when a client is at wit's end in dealing with these birds and their noxious droppings, their attitude is often that drastic times call for drastic measures. The nicest people can become hardened mercenaries. Shoot them. Trap them. Poison them. For clients unfamiliar with bird control techniques, we are often looked at as "bird exterminators." That's wrong for a number of reasons. First, the Migratory Bird Treaty and Endangered Species Acts prohibit the trapping or killing of most birds, eggs or nests without a permit. House sparrows, starlings, and pigeons are not protected under these Acts, but may be covered under local ordinances. So, before doing anything, you must identify the pest bird and know the applicable municipal, state, and federal laws. Otherwise, you may be subjecting yourself and your company to hefty fines. Second, killing the bird population is an ineffective short-term solution. Proper and effective bird control is about removal and exclusion through various physical, visual, or auditory deterrents. Bird control is not just ridding yourself of the existing bird infestation; more importantly, it is to make sure that birds find your facility undesirable. You want the birds to go elsewhere and become someone else's problem. A good bird control professional will make your facility made a as "bird-proof" as possible so you don't have to keep revisiting the problem every year. Finally, killing birds or wildlife is almost never necessary and should always be viewed a last resort. From a public relations standpoint, killing birds does not go in the plus column."
According to Cowley, "Bird control is not a one-fit solution; it is a multi-tactic approach that involves using a variety of deterrents. Birds can be stubborn little creatures and, at times, bird control can be difficult and frustrating, but it is a winnable war. It's people brains versus bird brains. Physical barrier deterrents such as anti-roosting spikes, nettings, post and wire deterrents, bird slopes, and shock tracks are the most effective over the long-term and just as important, no harm comes to the birds. Effective long-term bird control requires behavior modification."
Cowleys Termite & Pest Control services was founded in October 1991 by Drew Cowley. For 20 years, Cowleys has been helping businesses and homeowners deal with a full range of pest infestations. Cowleys offers bird control services through Cowleys Bird Solutions and and wildlife removal through Little Rascals Nuisance & Wildlife Services. For more information visit http://www.cowleys.com or call 866-9-COWLEY.
###