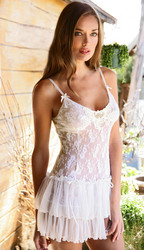 The In Bloom designs are a contemporary version of Old-Hollywood romanticism and I felt the blog should tell that story as well.
Los Angeles, CA (PRWEB) February 4, 2011
In Bloom by Jonquil Lingerie, the fun flirty line from bridal lingerie specialist Jonquil, is taking their branding to a new level through video, social media, and music. The recent Bloom Blog debut generated excitement on the social media front when singer Sara Bareilles got in on the fun by tweeting, "@bloomolivia, get 'em girl!" at blog character, Olivia Bloom. @BloomOlivia is the Bloom Blog's heroine, and one of several characters from the story to have a Twitter account.
Written by In Bloom media coordinator, Katie Delahanty, the Bloom Blog is an interactive, fictional fashion-romance novel being presented in blog format. Chapters are released on Tuesdays and Fridays, and readers, just like Sara Bareilles, can follow all of the characters on Twitter as a sub-plot develops LIVE!
The Bloom Blog is an interactive brand experience, and participants are encouraged to submit everything from outfit designs, to recipes, to anecdotes over the course of the story. In turn, readers are invited to vote for the entries they would like written into the story. Winners will receive lingerie from In Bloom by Jonquil and gift cards to http://www.shopinbloombyjonquil.com.
When presented with the challenge of starting the brand's blog, Delahanty said, "I didn't want to write a traditional editorial blog because I felt there wasn't enough newness I could bring content-wise. The In Bloom designs are a contemporary version of Old-Hollywood romanticism and I felt the blog should tell that story as well. Plus, I saw this as a fun and unique opportunity for customers to interact with our brand."
In addition to the Bloom Blog, In Bloom Lingerie recently premiered a fashion short, by filmmaker Matthew Salton, highlighting the line's classic designs. Set to Everything Was Lost by indie darling Samantha Shelton, the beautifully shot film gives the typically ethereal In Bloom line a trendy edge. Shot in the scenic industrial yards along the waterfront of Greenpoint, Brooklyn, Salton felt he found, "the perfect place" to juxtapose In Bloom's elegant lingerie with the grittiness of the yards set against the majestic backdrop of the shimmering New York skyline.
Love. Music. Fame. Fashion. Be part of the In Bloom story!
About Jonquil:
In 1980, designer Diane Samandi founded Jonquil, a romantic lingerie line well known for its lavish laces and intricate detail. A favorite with brides, Jonquil has enjoyed thirty years of success thanks in large part to its bridal lingerie, and is one of the most sought after lines in the lingerie world. In 2007, Diane partnered with a company specializing in the production of molded cup babydolls. Together, Diane and her design team worked to create In Bloom by Jonquil. Giving the feminine, graceful elements of Jonquil a fresh, flirty flair, they began by incorporating molded cups into Diane's elegant, European designs. They met with instant success. Since then, this charming line of playwear has evolved to include loungewear and daywear. In Bloom is designed to make a woman feel irresistible and girly, exposing her inner ingénue, and urging her to come on out and play! Specializing in bridal lingerie, Jonquil and In Bloom by jonquil are perfect for the wedding night or honeymoon. For more information visit http://www.shopinbloombyjonquil.com.
Media Contact
Katie Delahanty
Jonquil/In Bloom by Jonquil
P) 310-516-5900 ext. 1259
F) 310-538-1343
http://www.shopinbloombyjonquil.com
# # #