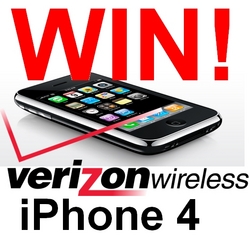 The Verizon iPhone is almost here, and the world will have to wait no longer.
Santa Rosa, CA (PRWEB) February 10, 2011
KaiserQuotes.com, a leading health insurance broker for Kaiser Permanente is having a contest to invite visitors to their new Facebook account. Just for stopping by and becoming a fan, guests qualify to win the long-awaited Verizon iPhone Version 4.0 mobile phone.
The contest is quick and easy to enter. It simply takes two clicks:
1. Go to the KaiserQuotes.com Facebook Page.
2. Click "Like" at the top of the page.
"We want fans, and the world wants the Verizon iPhone, so we figured we could make a deal. You become a KaiserQuotes.com fan, and we'll put you in the contest to win a Verizon iPhone 4G", shared Marketing Director, John Hansen. "Also, we believe that the valuable content and opportunity to interact on issues related to healthcare will make our fans glad they joined."
KaiserQuotes.com is doing several things to stay relevant to customer's interests and health insurance needs. Among them are bilingual services to the Spanish-speaking community, blogs to address hot topics, and now, social media through Facebook and Twitter. KaiserQuotes.com fans can join the social media conversation which includes topics such as medical care, Kaiser Permanente, nutrition, and exercise. Also, fans will get free updates regarding these topics.
The Verizon iPhone includes a lot of high-tech and fun features that make it a popular choice for anyone who enjoys staying in touch. The iPhone for Verizon offers the world's biggest mobile app store, many of which are free, and multitasking capability without slowing down the performance of apps or draining the battery. The Verizon iPhone includes a video calling feature, and an advanced camera system that produces sharp, high-definition images for video recording and shooting pictures. A new front-facing camera is also included for self-portraits.
One of our customers commented, "I switched to ATT because I wanted the iPhone, and I fell in love immediately…with the phone, but not with the ATT Network. I missed the Verizon Network. With ATT, I had lots of dropped calls and wait times just to get a call through. The Verizon iPhone is almost here, and the world will have to wait no longer."
KaiserQuotes.com offers health insurance in California, Colorado and Georgia. This online enrollment center offers Kaiser Permanente medical insurance coverage on individual, family and business plans. They offer online quotes and live support through phone, email, and live chat.
###