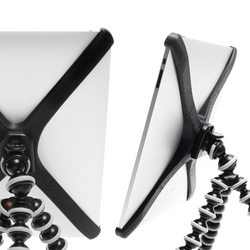 Use the iPad X Grip Case with hundreds of readily available, inexpensive clamps, grips, mounts, brackets and more.
Oregon City, OR (PRWEB) February 2, 2011
Two Portland based photographers have created the first truly universal iPad mounting case, making all other mounting cases obsolete. The X Grip is an Apple iPad case designed around a standard ¼" threaded mount which can be used in combination with hundreds of inexpensive and readily available attachments. It functions as the application of every other grip case made for the iPad, in one sleek, minimal design.
The fundamental design feature of this Apple iPad case is a 1/4" threaded brass insert, which is found in literally hundreds of inexpensive third party attachments. Like the Apple iPod and iPhone, the iPad is suited for unlimited everyday tasks with specially designed Apps. The iPad Clamp can be used with tripods, microphone stands, video grip equipment, wall mounts or anything else with the standard ¼" thread. This makes the functions of the case endless: from solo artists to major rock concerts, home use to a doctor's office, studio photography to Hollywood movie sets, airline pilots to uses in the International Space Station, there is literally nothing the X Grip cannot do.
The idea came from the disappointment we've all experienced, by purchasing a certain case or stand for a single application, and then having to go out and purchase more units for other functions and applications. With our case, one product does the trick. It's sleek and simple, and costs a fraction of most iPad mounts currently on the market.
Nick Curteman and Tom Baker are two Portland Oregon-based photographers, who teamed up to design the X Grip. Their product website can be found at http://www.xgripcase.com/.
If you'd like more information about the X Grip, or to schedule an interview with Nick Curteman, please call 503/781-3320 or email nick(at)xgripcase(dot)com.
# # #