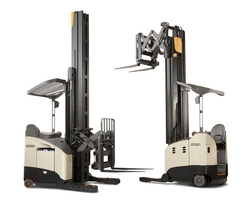 New Bremen, OH (PRWEB) February 8, 2011
Market Trends and Issues

Maximizing open slots at the top of racks that fill warehouses and distribution centers has been a challenge for companies seeking to store heavy loads at high heights.
Businesses stand to gain utilization, flexibility and financial benefits if they can leverage existing open rack space versus building new warehouses or adding onto existing facilities.
Reach truck operators have encountered challenges associated with mast sway and twisting when managing heavier loads at high heights.
Personnel operating reach trucks are seeking a forklift with visibility features that can reduce strain and fatigue associated with managing loads at height.
Core News Facts

The Crown RM 6000 Series is the industry's first narrow aisle reach truck with a MonoLift™ mast.
The Crown RM 6000 is also the industry's first pantograph reach truck that can reach 505 inches and deliver 1,000 pounds more capacity at height.
It is equipped with forks that travel upward at an industry-leading pace of 153 feet per minute.
Crown has calculated potential capital savings of approximately $2.6 million on a 250,000-square-foot freezer warehouse by building up and not out thanks to the Crown RM 6000 lift heights and capacities.
The rigid design of the MonoLift mast on the Crown RM 6000 is rooted in the boxed-in cross section construction that was originally developed for the company's turret trucks.
The MonoLift mast is offset seven inches to the left of the operator and narrows the higher it goes.
Crown reshaped the reach carriage to create a larger window at eye level giving the operator a better view of fork tips and load.
The load backrest was modified by designing a notch in the upper right-hand corner so that operators could easily scan at ground level from their position in the forklift.
The Crown RM 6000 features a Reach Sense technology that provides a soft start and stop when using the pantograph reach mechanism.
The Crown RM 6000 features the Crown OnTrac™ Anti-Slip Traction Control System that assists the truck from slipping on wet, dusty or sealed floors. By reducing tire spin during acceleration and preventing wheel lock-up during braking, the system reduces slipping and sliding. This decreases tire wear, increases efficiency, helps reduce the risk of accidents and product damage, and improves operator confidence in slick conditions, such as refrigerated or freezer applications. The OnTrac™ Anti-Slip Traction Control was first brought to the market in 2009 on the Crown RR 5700 reach truck.
The Crown RM 6000 Series features standard AC motors, regenerative brakes and lowering system, and electronic steering. These features, combined with the option to use a larger battery, position the Crown RM 6000 for energy savings and run time improvements of 25 percent or more depending on the application.
Historically, reach trucks have been built with dual upright masts, such as the Crown RR 5700 Series that continues to serve customers today.
Thirteen years ago, Crown was the first forklift manufacturer to unveil the sit, lean, stand design for operator positioning for reach trucks.
Quotes Attributable to Maria Schwieterman, product manager, Crown Equipment

We know that the forklift fleet impacts the design and operation of a warehouse. Specifically, warehouse designers have had to choose where to compromise – reach height, reach capacity or truck footprint.
The lift height and capacity qualifications of the Crown RM 6000 enable customers to gain greater flexibility throughout the warehouse by allowing most loads to be placed at any height and/or at any open slot. They also can help deliver significant financial benefits related to warehouse design and construction.
The Crown RM 6000 changes everything at a time when our customers are looking to maximize existing space. Warehouse managers can gain 15 percent more pallet positions simply by filling open slots at the top of racks. And, it's all achieved by a reach truck that delivers exceptional visibility, controllability and performance.
The Crown RM 6000 has the potential to change the way high-density warehouses and distribution centers are designed, save customers millions of dollars in capital expense, and support meaningful improvements in productivity.
Related Links
Crown RM 6000 Product Video
Crown RM 6000 Product Images
About Crown Equipment Corporation
Crown is one of the world's largest lift truck manufacturers. Crown's award-winning line of lift trucks maintains a reputation for exceptional product design, engineering and manufacturing. From the smallest hand pallet truck to the highest lifting turret truck, Crown seeks to provide users with safe, efficient and ergonomic lift trucks that lower total cost of ownership and maximize uptime. Headquartered in New Bremen, Ohio, Crown manufactures lift trucks that are sold throughout the world. For more information, visit http://www.crown.com.
Media Contacts
Dave Helmstetter
Crown Equipment Corporation
(419) 629-2311
dave.helmstetter(at)crown(dot)com
Aaron Brown
Fahlgren Mortine Public Relations
(216) 298-4677
aaron.brown(at)fahlgren(dot)com
Suggested Tags
forklift, forklifts, forklift truck, lift truck, reach truck, narrow aisle forklift, electric forklift, industrial forklift, material handling, warehouse, distribution center, Crown Equipment
# # #