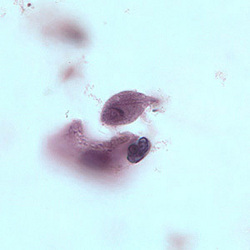 "Because of British Airways, we have the opportunity to meet our current customers face-to-face in South Africa along with developing new relationships. British Airways' generosity allows us more time to solidify additional relationships with public healt
White City, OR (PRWEB) February 3, 2011
BioMed Diagnostics, Inc., headquartered in Oregon, USA, is a leading manufacturer of in vitro medical diagnostic and environmental testing devices including a device for detecting the most common Sexually Transmitted Disease (STD) in the world, Trichomoniasis. Trichmoniasis, a pathogenic parasitic infection, is a widespread sexually transmitted disease now linked to increased rates of HIV transmission and increased incidents of prostate cancer. Trichomoniasis poses a threat to unborn children and is explicitly linked to premature delivery and low birth weight. BioMed's easy to use and interpret testing products are suited for remote locations and limited laboratory resources commonly found in rural Africa. Potential expansion into the African market, assists healthcare workers diagnose a greater portion of African populations quickly.
Before taking off, Tawnya Reed will attend the British Airways Face-of-Opportunity conference in New York City on Feb. 2, 2011, where the company will receive complimentary consulting from top influential international business experts while networking with venture capitalists, renowned entrepreneurs, media and other small business members.
The conference includes an introduction by Simon Talling-Smith, Executive Vice President Americas, British Airways, and keynote speeches by Rhonda Abrams, best-selling author and USA Today small business columnist, and Bill Rancic, best-selling author and first season winner of The Apprentice. The conference is designed to offer BioMed Diagnostics additional tools for business planning, international marketing and travel for expansion.
"We are very excited for this phase of the program and for the 250 small business owners who, beyond the educational resources already provided through the Face-to-Face program, now have the opportunity to fly British Airways overseas to conduct vital face-to-face meetings for their business,"
said Simon Talling-Smith. "Each of the winner's stories is uniquely inspiring and our hope is that the program is a powerful catalyst in ensuring lasting and fruitful businesses for them."
About the Companies:
BioMed Diagnostics:
Better diagnostics made simple.
BioMed Diagnostics, Inc., an industry leader for the past 20 years, develops and produces in vitro medical devices assisting medical and research professionals to zero in their diagnosis to provide the right treatment for the right infectious disease. Decades ago, a small group of physicians participated in a mercy mission to Central America, and discovered the need for diagnostic tools especially in austere environments. Their experience unleashed the inspiration for BioMed's innovative products supporting veterinarians, medical professionals, research teams, and environmental and industry scientists.
BioMed's team of scientists yielded over 14 patents, and the company's Trichomoniasis test has become the "gold standard" in the industry. The company's unwavering commitment to help people and animals be healthy has lead to their continued diligence in achieving certifications including ISO 13485 Medical Device Manufacturing, Food and Drug Administration (FDA) registration and the European Standard CE Mark.
To learn more about BioMed Diagnostics products and services please visit: http://www.biomeddiagnostics.com
British Airways:
British Airways is one of the world's largest international airlines. Operating one of the most extensive international scheduled airline route networks, together with its codeshare and franchise partners, the airline flies to more than 300 destinations worldwide. Also, one of the world's longest established airlines, it has always been regarded as an industry-leader. British Airways flies its customers at convenient times to the best located airports across the world.
British Airways is one of the world's leading global premium airlines with its principal place of business is London with significant presence at Heathrow, Gatwick and London City. It also operates a worldwide air cargo business, largely in conjunction with scheduled passenger services. The airline operates the majority of its domestic UK, international and intercontinental flights from its home at Terminal 5, Heathrow.
Whether customers are in the air or on the ground, British Airways takes pride in providing a full service experience.
Additional information on Face-to-Face is available by visiting the airlines website, ba.com/facetoface.
###