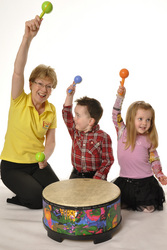 There are so many talented individuals contacting us about our franchise opportunities
(PRWeb UK) February 2, 2011
Rhythm Time, one of the UK's fastest growing children's music providers for under 5's is continuing to enjoy increasing interest in its franchise opportunities as three new franchises join the business in the last month alone. In the last year, 11 new franchisees have joined the company. Rhythm Time now has 32 successful franchises operating right across the UK, with further interest continuing on a daily basis.
According to the British Franchise Association, franchising is proving to be a more successful and stable self-employment option than starting up small businesses from scratch, and with the economy experiencing difficult times as it is (as well as redundancy figures increasing), interest in franchising is also increasing. The BFA also adds that franchising remains a healthy and prosperous option for people looking for a new lifestyle.
Owner and founder, Kathy Doolan is delighted with this growth. "There are so many enthusiastic and talented individuals who are contacting us about our franchise opportunities and wanting to be part of this thoroughly rewarding business" says Kathy who started Rhythm Time in 1995. "All of our franchisees share a passion for music and a love of working with children" she adds. "They are also able to enjoy a career that fits around their family commitments."
Rhythm Time has a set of unique courses that have been specifically written by Kathy (previously Head of Music at a Scottish school) and created to help a child's confidence, creativity and co-ordination. The classes are aimed at different age groups, specifically: music classes for babies (from birth to 15 months), music classes for toddlers (15 months to 3 years), and music classes for pre-school (3 – 5 years). Kathy is a strong advocate of music being crucial in helping to develop a child's speech and language from an early age and this forms a key element in all the classes.
Rhythm Time offers music franchise opportunities throughout the country and now operates in nearly 200 different premises throughout the UK, helping more than 10,000 children weekly to enjoy an early start to the benefits of music. It is an established company offering exceptional opportunities to those wanting to invest in a successful children's music franchise.
So if you would like to know more about Rhythm Time and the highly successful franchises it offers, contact Kathy Doolan at Rhythm Time on 0121 711 4224 or visit http://www.rhythmtime.net
Information For Editors
Rhythm Time
76 Beechwood Park Road
Solihull
B91 1ES
Telephone: 07813 831516 / 0121 711 4224
Email: rhythmtimemarketing(at)googlemail(dot)com
Rhythm Time was started in Solihull in 1995 by Kathy Doolan. After a very successful five years, Kathy decided to franchise the business in 2000.
Rhythm Time now has franchises all over the UK, operating in 200 areas with over 10,000 children attending classes.
Rhythm Time offers three age-appropriate classes for babies (birth to 15 months), toddlers (15 months to three years) and pre-school (three to school age).
Children come to Rhythm Time as tiny babies and progress to toddler and pre-school classes, enjoying a wonderful introduction to music.
All the courses have been created by Kathy, who trained at the Royal Scottish Academy of Music & Drama in Glasgow.
Kathy previously was head of music in a Scottish school and shares with all franchisees and teachers a real passion and belief in the importance of music during a child's formative years.
Kathy is a strong believer that singing unaccompanied helps to develop a child's speech and language from an early age and this forms a key element in all the classes.
###