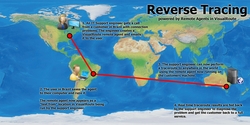 Turlock, CA (PRWEB) February 1, 2011
VisualRoute, by Visualware, introduces a key network diagnostic tool among its new features. Reverse trace is a key aspect of any IT support business that deal with customer connection and network problems on a daily basis. It can take up valuable time and money not to mention travelling to see customers trying to diagnose connection problems from a remote location. Reverse trace by VisualRoute takes great strides in solving this problem.
How does a reverse trace work? Reverse trace allows a user to initiate a traceroute between two points from a remote location. In the support staff example it is easy to see how this can save time and money. Within just a few minutes a remote agent can be created and sent to the customer. The remote agent is then run on the customers computer allowing the support staff to run a traceroute as if they were sitting at the customers computer.
What are remote agents? A Remote agent is a non-intrusive, secure and robust executable that when run on any given computer allows the VisualRoute instance that created the agent to then perform a traceroute. A remote agent is always under full control of the user running it. They have final say on when the agent is shut down and removed, which, in a support to customer situation, gives the customer peace of mind.
VisualRoute is available to try completely free for 15 days. Download your free VisualRoute trial here.
More information on how VisualRoute can help you can be found on the web site.
###