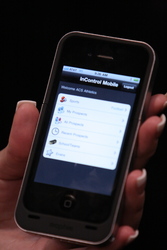 "Mobility has always been a key part of our company's strategy, which is why ACS Athletics was the first company to pioneer mobile compliance monitoring technology," says Rayan Rutledge, VP of Business Development.
Austin, TX (PRWEB) February 1, 2011
Founded in 1999, ACS Athletics was the first company in the industry to offer a holistic approach to managing athletic operations on one platform, including web-based and native recruiting applications for coaches that offered proactive compliance monitoring and alerts. Mobile applications are components of ACS's popular InControl™ department-wide product suite.
Over the last several years, NCAA athletic departments have faced increasing pressure to effectively monitor recruiting activities such as phone calls, text-messages and emails that if impermissible, could result in recruiting violations. In an effort to proactively position athletic departments and coaches to meet these challenges head on, in 2005, ACS Athletics introduced the first native mobile application for recruiting and compliance monitoring. As an industry first, the InControl™ mobile recruiting and compliance application evolved quickly to offer a web-based version and additional proactive compliance alerts and reporting.
Similar to its predecessors, the InControl™ iPhone® Mobile Application is helping college coaches and support staff improve operational performance and reduce risk in key areas such as recruiting and compliance. For collegiate coaching professionals, the InControl™ Mobile Application offers a comprehensive application for managing recruiting and compliance related activities. The robust contact management, compliance and communication solution was designed specifically for college coaches, empowering them to manage, track and coordinate all recruiting information and activities in real-time. The proactive compliance monitoring capabilities and alerts are designed to reduce risk by alerting coaches before performing a recruiting activity that could result in a violation.
"Mobility has always been a key part of our company's strategy, which is why ACS Athletics was the first company to pioneer mobile compliance monitoring technology that enabled our mobile applications to proactively prevent recruiting related compliance violations before they occur," says Rayan Rutledge, VP of Business Development. "The bigger picture for ACS customers is how we've combined our mobile and web solutions to better integrate athletic operations, which has increased efficiencies, empowered coaches and created a better experience for student-athletes."
"It's amazing where our customers have taken us over the last 10 years, and we can't thank them enough for working with us to revolutionize the industry by changing the way athletic departments operate and manage risk," says Phillip Engle, CEO of ACS Athletics. "ACS continues to set the bar for providing proven, integrated systems for athletics operations, proactive compliance monitoring and cutting-edge recruiting solutions for coaches."
The ACS Athletics iPhone Application can be found in the Apple App Store by searching "ACS".
About ACS Athletics:
ACS Athletics (http://www.acsathletics.com) is the leading provider of integrated web and mobile solutions for increasing operational performance and reducing risk in collegiate athletics departments. ACS gives customers a competitive advantage by providing an integrated, holistic approach to managing athletic department operational, compliance and student-athlete information on one platform. ACS proudly services athletic departments in the top conferences including the Atlantic 10 Conference, Atlantic Sun Conference, Big 12 Conference, Big East Conference, Big Sky Conference, Big South Conference, Big Ten Conference, Capital Athletic Conference, Centennial Conference, Colonial Athletic Association, Conference USA, Empire 8, Ivy Group, Mid-American Conference, Missouri Valley Conference, Mountain West Conference, Northeast Conference, Ohio Athletic Conference, Ohio Valley Conference, Pacific-10 Conference, Southeastern Conference, Southern Conference, Southland Conference, Sun Belt Conference, The Summit League, West Coast Conference, and Western Athletic Conference. The ACS Athletics team has over 120 years of combined collegiate athletics experience, and 85 years of combined experience developing, implementing and supporting software systems for higher education. ACS Athletics was founded in 1999 and is a privately held company headquartered in Austin, Texas.
###