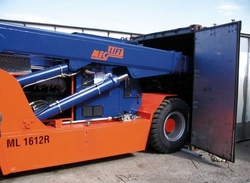 We are not the biggest player in the market, yet by creating maximum efficiencies we are able to pass savings on to our customers – a core value and pillar of BLT Logistics. - Dean Mouritzen
Jacksonville, FL (PRWEB) February 3, 2011
The additional handling capabilities have been in the planning stages since 2008, when Dean Mouritzen, President of BLT Logistics opened the warehouse for operations in Jacksonville, FL. During this period, BLT has plotted a growth strategy resulting in adding new handling equipment, skilled personnel, diversifying the types of cargo handled and is in the process of upgrading their warehouse and transportation management systems.
The strategy has paid off; today BLT Logistics is one of the fastest growing logistics companies in the South East, providing warehousing, transportation and container depot services.
BLT's ongoing success is born from a dedication to investing in best in class handling equipment and personnel. "Our diverse cargo handling approach has enabled us to offer custom handling solutions to fit our clients' needs", Mouritzen said. "Resulting in optimized handling and transportation processes."
The Meclift was introduced with versatility in mind. It is capable of lifting 33,000lbs and driving completely inside an ISO container for safe, accurate and efficient loading. BLT handles a range of cargo from lumber, steel, heavy equipment to palletized cargo.
"Everything about our facility was designed with efficiency in mind," said Mouritzen. "We are not the biggest player in the market, yet by creating maximum efficiencies we are able to pass savings on to our customers – a core value and pillar of BLT Logistics."
About BLT Logistics
BLT Logistics is committed to providing cost-efficient, custom logistics, warehouse and material handling solutions. Solutions include ocean, trucking, cross-docking, transloading, consolidation and deconsolidation, warehousing, equipment containerization and container depot services.
Stay informed about BLT Logistics by subscribing to our RSS feed @ http://www.blt-logistics.com/feed.xml
###