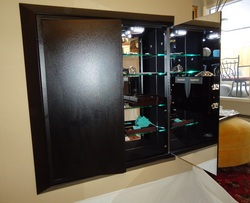 "We take great pride in our work and we stand behind the quality of every one of our safes"
Denver, CO (PRWEB) February 1, 2011
New for 2011, DigitalSafe introduces the Marquis (http://digitalsafeonline.com/wall-safes/marqui/) the largest production wall safe available. The Marquis solves the problem that wall safes have historically had with limited space. Competing safes from companies such as Sentry Safes, Amsec Safes, or Brown Safe have little interior space or can't be installed in an existing 4" thick wall.
The Marquis is the ultimate home safe and can securely store jewelry, watches, important papers, handguns and much more. The safe, which is designed and manufactured in the United States by DigitalSafe Inc, is a high security wall safe that has luxury features that include interior lighting, ten mahogany jewelry trays, velvet lining, necklace hooks, a mirrored door, and a hidden compartment for added security. The Marquis is 31" high x 30" wide x 7" deep and can be incorporated into a new home or retrofitted into an existing home. The security features of the Marquis, like that of all DigitalSafe Inc. products, include a two and a half inch security flange, and a tamperproof locking mechanism that that shuts down the electronics of the safe in case of any attempt to break into the safe. Additional security features include a cold rolled steel door and two 1" thick forged steel locking bolts that are driven by a smooth silent motor.
The Marquis is the latest in a line of high security safes from DigitaSafe and retails at $3,495.00. The president and founder of DigitalSafe, Streeter McClure's philosophy is that a safe is more than several pieces of metal and a lock. It should have high security, and it should also have refinements and luxury features that complement the valuables it protects. Like all DigitalSafe wall safes and vault safes, the Marquis comes with 24 hour customer support for as long as you own your safe, a lifetime warranty on the steel enclosure and steel door, and a limited four year warranty covering electronic, materials, and workmanship.
About Digital Safe Inc.:
Digital Safe Inc. (http://digitalsafeonline.com/), located in Denver, Colorado, produces wall safes, vault safes and specialty safes that include a wine safe, a fireproof safe, and jewelry safes. Founder and President, Streeter McClure designs and oversees the production of every safe to ensure the highest standards of quality and craftsmanship.
Contact information:
Streeter McClure
President
Phone: (800) 566-3122
Streeter(at)digitalsafeonline(dot)com
http://www.digitalsafeonline.com
# # #