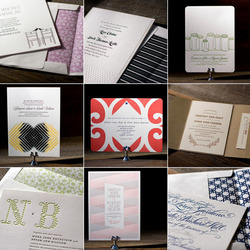 Syracuse, NY (PRWEB) February 3, 2011
Bella Figura, a leader in the eco-friendly letterpress movement, has introduced 80 new green letterpress invitation designs on their website http://www.bellafigura.com in time for the 2011 wedding season. The new designs offer letterpress wedding invitations ranging from the traditional to the ultra modern and everything in between, including exclusive new custom calligraphy letterpress wedding invitation designs unique to Bella Figura and a range of brilliant patterned liners and new eco pocketfolds in exclusive colors. Bella Figura offers one of the most extensive online collections of letterpress wedding invitations for style-savvy clients worldwide.
Bella Figura's letterpress invitations are created by a highly talented group of the nation's most sought-after designers and calligraphers including renowned designer Kamal Patel of OnKamal; Erin Jang of The Indigo Bunting and Martha Stewart Living; Tara Hogan of Ink+Wit; Amy Graham Stigler, creative director of Bella Figura sister company Smock; Elizabeth and David Mandel of Elsas Design; Ben Whitla; Ian Koenig; Maura Gauthier; artist Jamie Lea Bertsch; Ellie Snow of design blog Mint; Aimee O'Boyle of Creative Montage; font designer James Grieshaber of Typeco and calligraphers Debi Zeinert of The Blooming Quill; Sarah Hanna; Patricia Mumau of Primele; Kelle McCarter of Designsgirl; and Maybelle Imasa-Stukuls of Maybelle. In addition to expertly designed letterpress invitations, each Bella Figura design suite also features unique save the dates, menus, thank you notes, place cards, reception cards, programs, and coasters.
Bella Figura's newly redesigned website includes new galleries for letterpress save the date cards, letterpress thank you notes, destination wedding invitations, letterpress coasters, and more. Searching through the 225+ letterpress invitations is also easy, with search filters that allow brides to sort by style (vintage wedding invitations, modern invitations, formal invitations), season (spring wedding invitations, summer wedding invitations), or even the location of your wedding (country club
wedding invitations or winery invitations).
As green, eco-friendly weddings continue to grow in popularity, Bella Figura stands out as a true industry leader. As a true environmental letterpress shop, Bella Figura uses 100% reclaimed cotton tree-free paper and eco letterpress inks, in addition to being wind powered, a member of Green America's Green Business Network and donating 1% of sales to environmental causes via 1% for the Planet. For employees, they offer free bus passes to encourage use of public transit and subsidize 20-week Community Supported Agriculture memberships with a local organic farm.
For the third year in a row wedding and design industry leaders - including event designer Ashley Meaders, Anne Sage of The City Sage, Kathryn Storke of Snippet & Ink, Myra Callan of Twigs & Honey, Nole Garey of Oh So Beautiful Paper, Ami Price of Elizabeth Anne Designs, renowned wedding photographer Elizabeth Messina, and Jena Coray of Modish - have picked their favorite wedding trends and curated sample packs of their favorite letterpress wedding invitation designs from Bella Figura. 100% of the purchase price of Bella Figura Trendsetter sample packs are donated to an environmental nonprofit (either American Forests, the Conservation Fund, Conservation International, or Earthworks).
Bella Figura works with clients to create truly unique and personalized custom letterpress invitations with their extensive collection of embellishments including signature letterpress inks; letterpress fonts; envelope linings; edge paintings; new eco pocketfolds; calligraphy; corner rounding; and more. They are the exclusive letterpress invitation company offering custom hand calligraphy invitations from five renowned calligraphers. For international customers, Bella Figura's custom letterpress designs are available in languages such as Hebrew, Vietnamese, Spanish, Greek, Chinese, French, or German, and invitation clients have ordered from Australia, England, France, Canada, and beyond.
For more information and additional photographs, visit Bella Figura.
About Bella Figura:
Based in Syracuse, NY, Bella Figura creates letterpress wedding invitations the old-fashioned way, using vintage cast-iron presses, the best paper, time, patience, perfection, and a whole lot of love. Bella Figura is a true environmental letterpress shop: they are a wind-powered, a member of Green America's Green Business Network and donate 1% of sales to environmental causes. Their line of letterpress invitations is printed on 100% reclaimed cotton paper, made at a historic European paper mill exclusively for them. Bella Figura's letterpress wedding invitations have been featured in Martha Stewart Weddings, New York Weddings, BRIDES, Modern Bride, Grace Ormonde Wedding Style, Inside Weddings, and The Knot, in addition to mentions on wedding blogs such as Style Me Pretty and Once Wed.
# # #