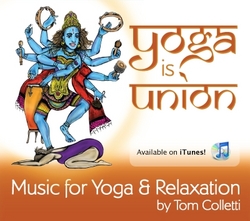 Listen with your heart, smile with your eyes and connect with all that is in and around you. Breathe deep and enjoy! - Tom Colletti
New York, NY (PRWEB) February 2, 2011
Fire Productionz, LLC releases a yoga music album today designed to assist yoga teachers and yogis worldwide. The CD comprises the Indian philosophy of Vedic science and was masterfully designed and composed to complement the yoga asana routine.
The album was designed by two creative brothers from New York City who share a sincere admirable love and appreciation for yoga and music. The older brother is a registered yoga teacher with Yoga Alliance and the younger brother is a music composer and graduate of the Institute of Audio Research. Both brothers, avid yogis, were tired of yoga instructors teaching yoga to music by Bruce Springsteen or Lady Gaga of all people. "It just isn't authentic. Many people miss the point. The music we created helps unite the harmony of yoga with one's body mind, and spirit; hence the album title,"says Colletti.
For instructors, whether the yoga class is 60, 75 or 90 minutes, this yoga CD is designed to play from beginning to end. The last three (3) tracks were composed as music for Savasana.
Even Claire Diab, Founder of the American Yoga Academy & Director of Yoga at the Chopra Center for Wellbeing encourages yogis to "Nourish your body, mind and soul with Tom's beautiful yoga music." There is something to be said about keeping yoga authentic yet fun and liberating. Yoga music combined with yoga asanas will enable one to quiet the mind and go inside the self to a place of relaxation and meditation. As Tom Colletti so eloquently puts it, "Listen with your heart, smile with your eyes and connect with all that is in and around you. Breathe deep and enjoy."
For more information contact:
Anthony Colletti
Fire Productionz, LLC
Ph: (551) 206-6860
yogaisunion(at)gmail(dot)com
# # #