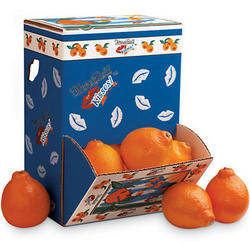 Medford, OR (PRWEB) February 3, 2011
Cushman's, America's citrus gift experts for over 60 years, provides healthy, affordable Valentine's Day gifts under $30. Choose from a variety of options including memberships to our fresh fruit clubs, HoneyBell marmalades and more, all packaged and priced to be excellent gifts for under $30.
Give healthy Valentine's Day gifts this year to loved ones with something special from Cushman's. With a number of fresh fruit gifts under $30, Cushman's makes it easy to spread the love. This year, give out kisses – our HoneyBell Kisses® Counter Pack, that is! HoneyBell Kisses are a smaller version of our signature HoneyBell® oranges and are a convenient way to enjoy delicious HoneyBells on the go. This great Valentine's Day gift includes 13 juicy little HoneyBell® oranges packed into an attractive display that stores neatly on the counter. The World's Only Limited Edition Fruit® makes for great Valentine's Day gifts for everyone.
Our Cushman's Fruit Clubs make for great Valentine's Day gift ideas and are a great way to send love year-round. These fruit clubs are packed with delicious seasonal fruit gifts, including our signature Cushman's HoneyBells, ruby red grapefruit, golden pineapple and more. Our Fruit Club Gifts are exempt from delivery charges and come in 3-month, 6-month, 9-month and 12-month varieties. Stretch Valentine's Day love all year long with this fresh fruit gift for that someone special.
Browse through the gifts under $30 category on the Cushman's website to find affordable Valentine's Day gifts for everyone.
Remember to order all Valentine's Day gifts before the shipping cut-off dates to ensure timely arrival. The last day to order Valentine's Day gifts using regular shipping is February 7th; the last day for 2-day express is February 10th and the last day for next day delivery is February 11th before 10am PST.
All orders are backed by a 100% guarantee. If those who receive our HoneyBells are not fully satisfied, Cushman's will provide either an appropriate replacement or a full refund. Visit http://www.honeybell.com for more information.
About Cushman's Fruit Company
Founded in 1945 and headquartered in West Palm Beach, Florida, Cushman's Fruit Company is a multi-channel marketer of specialty foods, primarily citrus, from Florida's premium groves and the finest farms and orchards across America. The company is best known for its Cushman's HoneyBells® citrus, a rare natural hybrid of Dancy Tangerine and Duncan Grapefruit, and the World's Only Limited Edition Fruit®, as well as its citrus fruit offerings year-round. Today, Cushman's Fruit Company sells its products primarily through its catalog and http://www.honeybell.com, as well as through foodservice and retail channels. Cushman's Fruit Company is a Harry & David company which includes the Wolferman's brand.
(Harry & David and Cushman's Fruit Company are DBAs of Harry and David.)
###